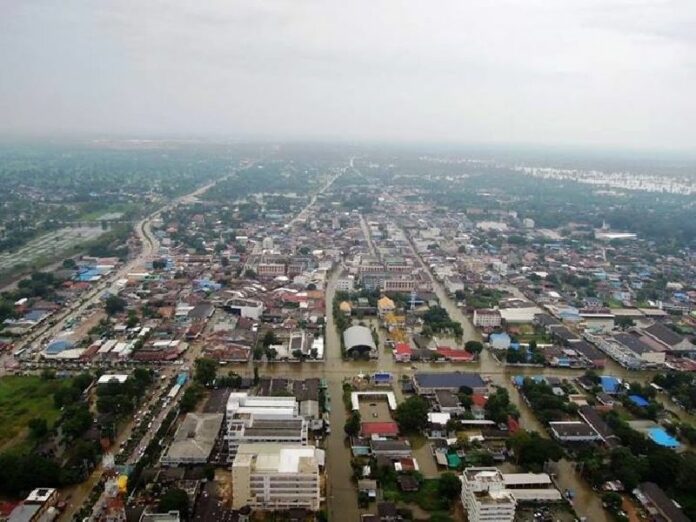 (10 October) The Office of the National Economic and Social Development Board (NESDB) has reported a positive outlook for the Thai economy despite ongoing flood crisis and US Government Shutdown.
In a document detailing economic prospoect of August 2013 presented to the Cabinet, NESDB highlighted improvement of the economy, particularly the increase in spending and manufacturing sectors.
According to the report, private consumption, export, agricultural production, manufacturing and tourism sectors are growing slightly.
The 2013 annual economic growth, according to the NESDB, is expected to be 3.8 – 4.3%, while the inflation rates remains at 2.3 – 2.8%. It also advised that the national current account stays positive at 0.3% of national GPD.
However, it noted that Thailand will have to face with several problems through the rest of the year, including the floods and the struggling US economy, which is largely based on the public debt ceiling issue.
Meanwhile, in comparison with August 2012, national demand had increased, both in national consumption and exports. On exports sector alone, the NESDB predicts the additional USD 19 billion, resulting in 2.5% expansion, according to the Bank of Thailand (BOT) or relatively 3.9% according to the Minister of Commerce.
Assistant governor in charge of financial institutions policy, Ms. Chantawan Sujaritkul, said that the BOT is keeping close look at the US public debt payment, stating that the issue may affect both Thailand and other countries investing in the US bonds.
Mr. Siri Karncharoendee, a member of BOT′s Monetary Policy Committee, agreed with Ms. Chantawan, and suggested that the US government shutdown should be solved as soon as possible.
He also added that the major economic player should not allow any delay in its bond debt payment, as it may result in the US's inaccountability. However, if the US shall fail to pay its bond, which would be the first time in history, international economy would suffer massive catastrophe, said Mr. Siri.
For comments, or corrections to this article please contact: [email protected]
You can also find Khaosod English on Twitter and Facebook
http://twitter.com/KhaosodEnglish
http://www.facebook.com/KhaosodEnglish