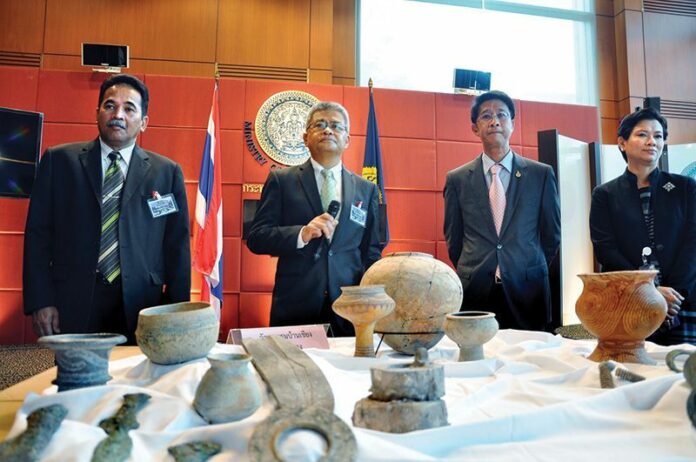 (October 10) A family of American citizens, whose relatives lived in Thailand during Vietnam War, returned the biggest single lot of ancient items to the country, as 76 items were shipped to the kingdom.
The items have been proved by archaeologist to be valid, and will be registered as national treasures, according to Mr. Anek Sihamat, deputy director-general of the Fine Art Department.
Archaeologists reportedly had studied the items, and clarified that they belong to Ban Chiang era, and should be made between 1000 BC – 300 AD.
According to Mr. Manaswee Srisodaphol, director-general of the Department of Information, Ministry of Foreign Affairs, the owners of the artifacts contacted the Royal Thai Consulate in Los Angeles, and had started to return the items since 2002.
Our correspondent also reported that the donors explained that their relatives had lived in Thailand during the war period, and had shipped the items back with them once their returned to America. They later sought the origins of the items, and wished to return them to where they belong.
Mr. Anek said that the Fine Art Department plans to display the items in Ban Chiang Museum and other regional museums where there is adequate security for the items.
For comments, or corrections to this article please contact: [email protected]
You can also find Khaosod English on Twitter and Facebook
http://twitter.com/KhaosodEnglish
http://www.facebook.com/KhaosodEnglish
For comments, or corrections to this article please contact: [email protected]
You can also find Khaosod English on Twitter and Facebook
http://twitter.com/KhaosodEnglish
http://www.facebook.com/KhaosodEnglish