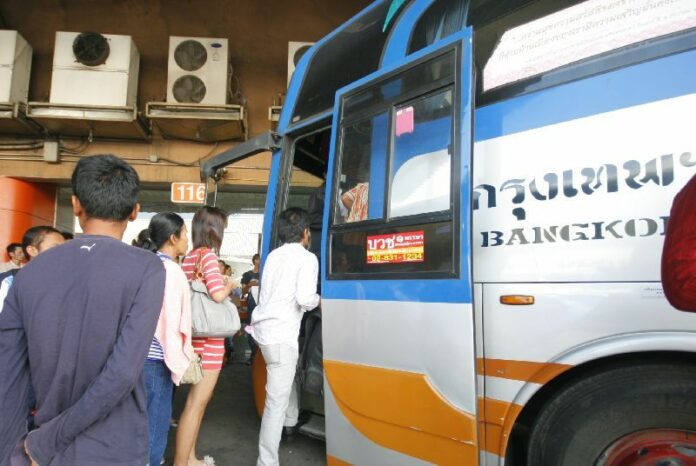 (11 October) The transport authority in Thailand has announced a new safety measure by requiring all inter-provincial buses to install seatbelts and present safety videos to their passengers on the buses.
The announcement by the Transport Company Limited, a state enterprise operating under Ministry of Transport, is a response to the major road accident in Saraburi province in which 19 people were killed and 30 injured.
From 15 October onwards, every bus operated by Transport Co.Ltd. must install safety belts and provide a short video clip informing the passengers about safety procedures in the same manner of commercial airliners, according to the new regulation.
The clip will also inform the passengers about possible dangers that may occurred if they do not fasten their seatbelts.
The move has been seen by much of the Thai public as a long-overdue measure which would have saved lives in the frequent traffic accidents on Thai roads. Many public vehicles, such as the minivans and taxis, do not have seatbelts for their passengers.
Mr. Pong Cheewanant, Deputy Transport Minister, said that the Transport Company's safety measure is a strategic policy which he encourage every transport company to follow.
"To save more lives from road accidents, we would also need qualified drivers to perform their tasks properly" added Mr. Pong.
The Ministry of Transport had also previously announced plans to attach CCTV cameras to monitor the driver behaviours, and the circumstances inside and outside the bus.
It is expected that the camera should allow the authority to speculate the risk of accidents caused by the bus drivers.
The Transport Co.Ltd. said that they are assessing costs and effectiveness of the CCTV camera, and hopeful to apply the equipment to their bus shortly in the future, as the technological items are becoming increasingly cheaper.
"The goal is to strengthen passenger's safety when they travel on Transport Co.Ltd. buses" said Mr. Pong, "At the beginning phase, Transport Co.Ltd. will be the leader, and I expect other [private] companies to join the program later."
He added, "I am confident that once all 8,000 buses run by Transport Co.Ltd. apply the policy, the passengers should feel safer. This should encourage other transport companies to follow the same safety procedures in the future",
Meanwhile, Mr. Chatchart Sittipan, Minister of Transport, took to his Facebook account to air a complaint that he encountered an inter-provincial bus that did not comply with the regulations while he made a trip to Nakhon Ratchasima province.
According to the Minister, who was attending a government-exhibition in the Northeatern province, the bus that he took from Mo Chit terminal to Nakhon Ratchasima was not equipped with the safety procedures video.
Mr. Chatchart also claimed that he did not witness the Air-Conditioned bus driver fasten his seatbelt as the bus departed the terminal.
For comments, or corrections to this article please contact: [email protected]
You can also find Khaosod English on Twitter and Facebook
http://twitter.com/KhaosodEnglish
http://www.facebook.com/KhaosodEnglish