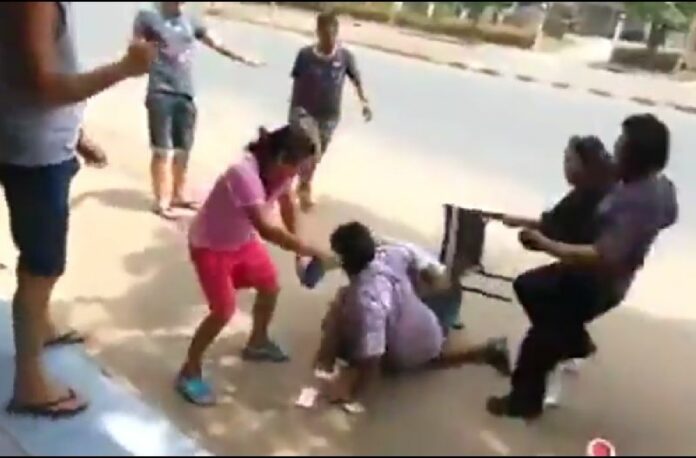 (13 October) As netizens criticised the behaviour of a group of Thai nationals seen beating a foreign couple in a video, a senior police commander of Surat Thani province insisted there is more, or less, to the story.
The said video, posted on Youtube on 11 October, showed a couple, believed to be foreign tourists, being shouted and beaten by group of Thais in front of Surat Thani′s K Park Grand Hotel.
Several foreigners could be seen watching the incident nearby, while some tried to break up the fight, to no avail.
It was claimed that the tourist couple refused to pay the fare for a local taxi as the price was overcharged, which enraged the Thais and led to the fistfights. Many comments in the website, and other social network sites, berate the Thai nationals for their aggressive behaviours against the tourists.
However, Pol.Col. Suwat Suksri, the commander of Mueang Surat Thani Police station, told Khaosod that the context of the incident is different to what the netizens understand.
According to Pol.Col. Suwat, the fight took place on the afternoon of 7 April this year. The police responded to the incident and apprehended six suspects, three Thais and three Bahraini tourists.
The police reportedly fined each of them 200 baht for engaging in fights, while the tourists were fined additional 5,000 baht for properties damages.
The Bahraini couple, Pol.Col. Suwat were travelling with a mutual friend in Surat Thani for their Honeymoon. While the trio was waiting for a bus in front of the bus company office at the scene, the Bahraini woman reportedly talked to a Thai man, and her newly married husband became angry and started trashing the bus company office.
Fistfights soon followed, the police officer said, and only ended when the police arrived, arresting everyone involved.
"I can?t see the intention behind uploading the clip, because the incident happened long ago," Pol.Col. Suwat added.
For comments, or corrections to this article please contact: [email protected]
You can also find Khaosod English on Twitter and Facebook
http://twitter.com/KhaosodEnglish
http://www.facebook.com/KhaosodEnglish