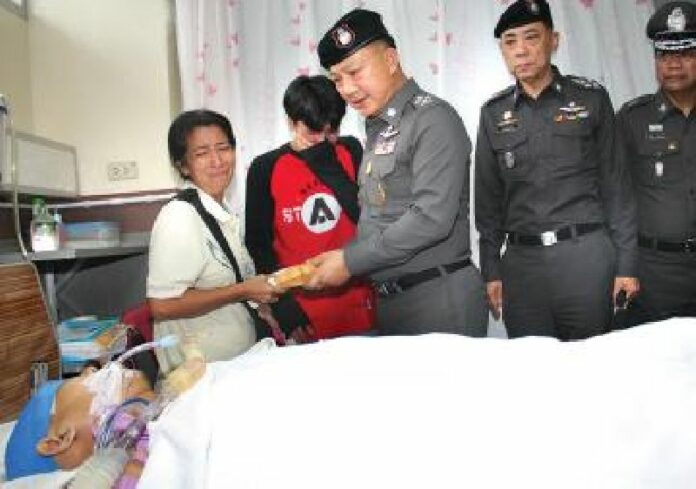 (13 October) A police officer had been fatally injured as he responded to the shootout in a popular nightclub in Samut Sakorn province, while a suspect was also shot and killed by the police.
The police received emergency call around midnight on 11-12 October informing them of gunfights at Red Zeed bar in Mahachai district. A number of police officers, including Pol.Sgt.Maj. Nattasart Srisoi, moved to investigate the scene.
According to his partner, Pol.Sgt.Maj. Arnont Kamplang, once they arrived at the nightclub, two groups of suspects were exchanging gunfire and the police immediately dismounted from their motorcycles and approached to break up the fight.
Some suspects fled the scene once they spotted the police, Pol.Sgt.Maj. Arnont said, while others started shooting at the officers. The pair of officers took cover, called for reinforcements, and returned the gunfire "till I ran out of bullets," Pol.Sgt.Maj. Arnont said.
The officer said he retreated to reload his gun and returned to the scene in time to see a wounded suspect being carried into a car by his friends, while his partner Pol.Sgt.Maj. Nattasart was lying in a pool of blood. Realising that his partner had been shot in the head, Pol.Sgt.Maj. Arnont brought him to hospital.
The fleeing suspects were later stopped by police checkpoints, and the wounded man, identified as Mr. Patchara Samrarn, 27, was also sent to the same hospital where Pol.Sgt.Maj. Nattasart was being treated.
Both men later succumbed to their wounds and died. Doctors said Mr. Patchara had been shot in his left chest and left leg, while Pol.Sgt.Maj. Nattasart had been shot twice under his left eyes. Two other suspects were also wounded by the gunfights.
Arriving at the hospital where the body of Pol.Sgt.Maj. Nattasart was kept on the next morning, Pol.Gen. Adul Saengsingkaew, Commissioner-General of the Royal Thai Police, expressed his sympathy for the wife and son of the deceased policeman, and presented compensation money of 850,000 baht for the family.
Pol.Gen. Adul said the police force will take care of the family at its best, adding that the money presented today is just a part of the larger aid program. For instance, he said, the police will accept the son of Pol.Sgt.Maj. Nattasart into the force as a token of his father′s "courage" after he had failed the exam twice.
Pol.Gen.Adul added that he will also request a Royal Cremation from the Bureau of the Royal Household for Pol.Sgt.Maj. Nattasart in order to honour his service.
The three suspects will be charged with numerous offences, police said, including attempts to murder policemen on duty, possession of firearms, and discharging their weapons in residential areas.
For comments, or corrections to this article please contact: [email protected]
You can also find Khaosod English on Twitter and Facebook
http://twitter.com/KhaosodEnglish
http://www.facebook.com/KhaosodEnglish