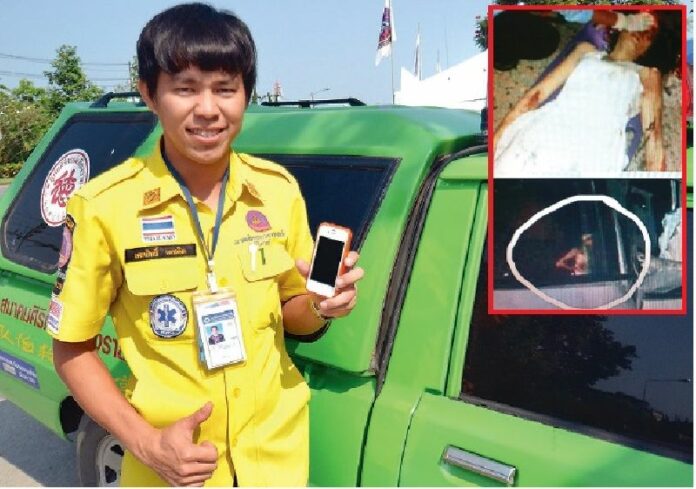 (13 October) A rescue worker in Chiang Rai province has claimed that a ghost can be seen in the photo he took of a car accident which killed a woman.
The photo received a great deal of attention from netizens after it was posted on the social network. It purports to show a faint reflection of a woman in white on a car near where the dead body was being retrieved.
Speaking to Khaosod, Mr. Seksit Dechkit, 28, a member of Sirikorn Rescue Foundation in Chiang Rai, said he took the photo on 10 October when his team was alerted to a car accident on the early morning of 10 October in Mueang district.
At the scene, the rescue workers found the body of Ms. Chirapon Tapa, 26, stuck in the wreckage of her car which had crashed into an electrical pole. Mr. Seksit said he took 8-10 photos of the scene as part of his rescue work routines, and posted some of them on his Facebook account. He said he soon forgot about the photos.
However, he said, the photo has been widely shared and claimed that a spirit could be seen, even though he had not altered the picture in any way.
"When I checked the photo and took a close look at it, my friends and I just had goosebumps," Mr. Seksit said, claiming that there was no woman around the accident site, let alone a woman in white.
It is not immediately clear whether the picture is a ground-breaking evidence of ghosts, a photoshop gaffe, or a simple case of pareidolia.
For comments, or corrections to this article please contact: [email protected]
You can also find Khaosod English on Twitter and Facebook
http://twitter.com/KhaosodEnglish
http://www.facebook.com/KhaosodEnglish