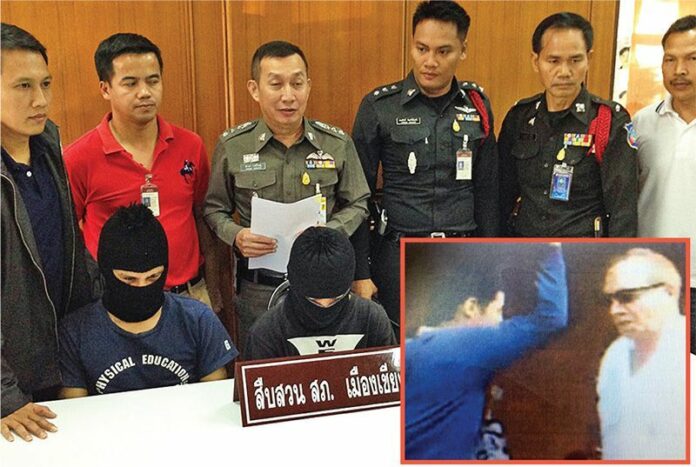 (21 October) Chiang Mai police have arrested a pair of teenagers who randomly hit an Italian passer-by with a shoe, and uploaded a video clip of the incident on the internet afterwards.
The two 16 year old suspects have been charged with causing physical and mental harms for the crime which allegedly took place in front of a gift shop called ?Freebird? in Mueang district in late September.The victim, an Italian national named Mark Monti, filed the report to Chiang Mai police on 20 October, claiming that the teenagers attacked him unprovoked, hitting him in the face with a sandal.
Police then quickly solved the crime, as they reportedly had possessed some information on the suspects prior to Mr. Monti′s report.
The accused admitted to their crimes, stating that they, along with two other friends, left their college that morning with the intention to ?find someone they could prank on?, police officers said.
They allegedly found Mr. Monti later and decided to attack him with the sandal as recorded in the video.
In the press conference announcing the arrests of the two suspects, Pol.Col. Aksorn Wongyai, Chief of the Chiang Mai police station, said the crime has damaged the good images of Chiang Mai city, a popular tourist destination.
According to Pol.Col. Aksorn, Mr. Monti did not initially wish to pursue legal charges against the teenagers in the first place. However, the video soon went viral on the internet and his friends started asking about the incident, causing Mr. Monti′s embarrassment.
He eventually sought police supports to arrest the suspects and demanded their apologies. The teenagers' parents and teachers were also asked to acknowledge the suspects? actions, Pol.Col. Aksorn said, and Mr. Monti will not pursue any further action.
"We have contacted the teenagers? parents to inform them about their children′s action." said Pol.Col. Aksorn, "The case will proceed according to the legal procedures, and the accused should be fined no more than THB 500 each.
For comments, or corrections to this article please contact: [email protected]
You can also find Khaosod English on Twitter and Facebook
http://twitter.com/KhaosodEnglish
http://www.facebook.com/KhaosodEnglish