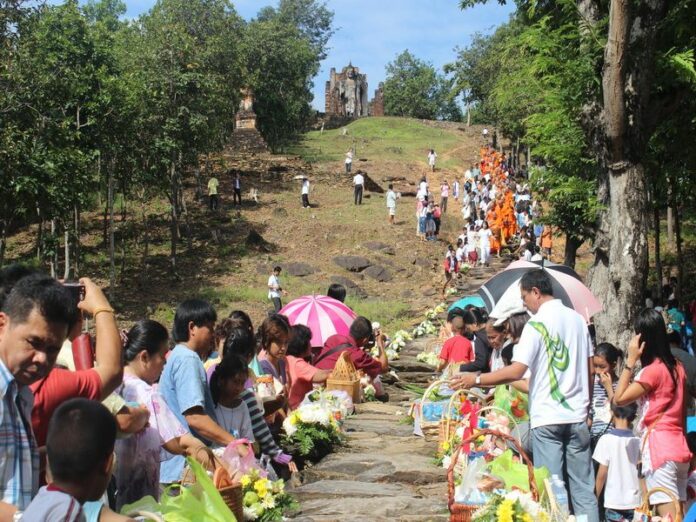 (21 October) Local hospital in many provinces have been overwhelmed by fireworks-related injuries and deaths during the End of Buddhist Lent celebration throughout the weekend.
The Lent, also known as Buddhist Rainy (Vassa) Season, required monks to reside in their monasteries for three months. The traditions are believed to date back to Lord Buddha′s instruction that the monks should not venture out of their abodes during the rainy seasons lest they damage local crops and hurt the small animals.
In present days, the End of Buddhist Lent is celebrated with religious ceremonies and fireworks, which have caused many injuries and deaths annually, despite a legal restriction on fireworks.
Loy Kratong Day, celebrated in November, is also associated with large number of fireworks-related casualties. As for this year, local hospitals in Udon Thani have received 63 firework explosion victims, 53 of them is still waiting for further diagnosis.
In the neighbouring Amnat Charoen province, at least 11 people were sent to the hospitals due to firework accidents in the province, said Mr. Songkiat Lektrakul, director of Amnat Charoen Provincial Hospital.
Many victims of the firework explosion are school kids, he added. Reportedly, a group of children tried to ignite a firecracker before putting the firework in a glass bottle, but it prematurely exploded. This explosion alone injured 6 children.
In another case, Mr. Wanchai, 30, told doctors that he blew up a ping-pong firework in his hand, a grave injury that might cost him fingers, doctors said. Another man, Mr. Bancherd, 46, also took his son to the hospital after many parts of the boy's body was burned by firework explosion.
A firework explosion also killed a man at Wat Pang Phak Hee temple in Mae Chan district, Chiang Rai province, after the man attempted to launch a faulty homemade firework.
According to witnesses, the victim, who is later identified as Mr. Ekkachai Maneerat, 19, was severely injured by a firework he made. Reportedly, a crack on the tube caused an explosion and destroyed the man's left hand, left arm, chest and face.
The man died shortly after the incident, despite the efforts of the monks and novices to save his life. Mr. Ekkachia′s body has been arranged for autopsy, the police said, adding that they have also found other equipment for firework crafting at the scene.
Police across the country said they had been trying to cope with the situation and arranged patrols around the various vicinities. However, the attempt to curb on the illegal selling of fireworks appeared to be unsuccessful, as many vendors simply ignored the restriction on flammable substances.
Nevertheless, senior police officers insisted that those who violated the law will soon be arrested.
Meanwhile, in Lampang province, fire fighters rushed to control a fire in Mueang district, after a one-story house which had been storing firework equipments exploded into huge blaze.
A sign reading "No Flammable Substances" was posted in front of the building, which presumably stored the fireworks for sale during End of Buddhist Lent holidays.
Reports say firefighters took only 20 minutes to control the fire, but they were unable to save the building and some of the nearby houses. No report for injury or death was reported.
Ms. Boonphan Phewphan, 53, the owner of the building, said that she could not figure out any possible reason of the explosion, and affirmed that nobody was in the building during the time.
In 2011, Ms. Boonphan's husband was badly injured in a similar firework explosion at the building, and later died at Chiang Mai hospital, prompting Lampang authorities to state that they would tighten the restriction on illegal storage of fireworks.
For comments, or corrections to this article please contact: [email protected]
You can also find Khaosod English on Twitter and Facebook
http://twitter.com/KhaosodEnglish
http://www.facebook.com/KhaosodEnglish