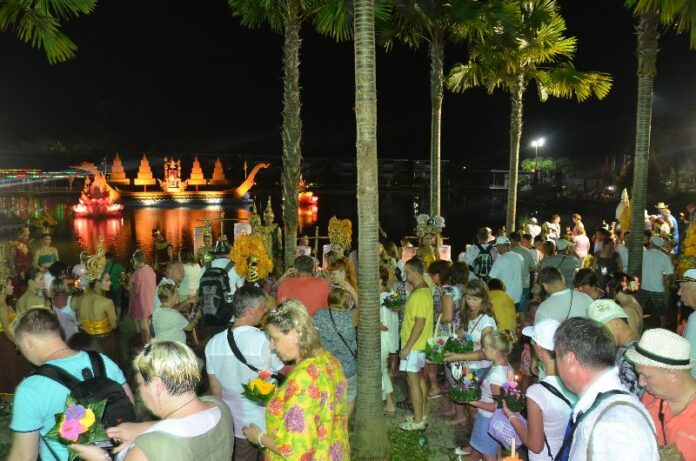 (15 November) Rivers across Thailand are about to be lit up by the floating lanterns on Loy Krathong Festival, which falls on 17 November this year, with the northern provinces becoming the most popular destination for the celebration this year.
According to Mr. Sarawuth Sae-teow, director of the Northern Tourism Association, venues in provinces like Chiang Mai and Chiang Rai are almost completely booked.
The reservations have increased by 10% from last year, he said, as Thai and foreign tourists are headed for the region, especially the Chinese tourists.
"Many of the Chinese are rather wealthy. They occupy the upper market, they like to book hotels with 4 and 5 stars" said Mr. Sarawuth, adding that there have been no hotel cancellations despite the political turmoil in Bangkok.
Loy Krathong is celebrated by floating ornate lanterns, Krathong, into rivers and ponds, as a gesture of gratitude expressed to the river goddess Kong Kha.
Piers in Bangkok′s main river are expected to be crowded with locals and tourists, with nighttime festive events planned in over 100 sites across the capital city, such as the picturesque Asiatique complex, Rama VIII Bridge, and Lumpini Park.
Pol.Maj.Gen. Adul Narongsak, spokesman of the Metropolitan Police Bureau, said police forces will regularly patrol places where teenagers might be "causing trouble" and "committing appropriate actions", such as the cheap motels; Loy Krathong is often associated with losing virginity among youngsters (คืนเสียตัว), and the Thai authorities have attempted to crack down on this trend in the past.
The spokesman also warned that anyone who sells fireworks without permission will be arrested.
Meanwhile, Mr. Chatchai Promlert, chief of Disaster Prevention and Relief Department, has advised parents to keep close watch over their young children when they visit river piers for Loy Krathong, due to high number of death and injuries by drowning in recent years.
He urged children not to swim and retrieve Krathong in the rivers for coins placed on the lanterns by festival-goers; children risking their lives in the strong river current to fetch Krathong has been a common sight in the festival.
Mr. Chatchai also urged festival-goers to be aware of dangers associated with the uses of fireworks and hot air lantern balloons, which might cause fire to nearby residential areas.
For the seaside town of Pattaya, however, Loy Krathong arrives early this year. Nong Nuch Garden and Resort has welcomed more than 5,000 foreign tourists last night to the early Loy Krathong celebration held in its parks.
The events showcased many activities, such as elephant shows, mass release of lantern balloons, and performance of traditional Thai arts.
Mr. Kamphol Tansajja, director of Nong Nuch Garden, said he believes the events would persuade many foreign tourists to return to Thailand in the future.
For comments, or corrections to this article please contact: [email protected]
You can also find Khaosod English on Twitter and Facebook
http://twitter.com/KhaosodEnglish
http://www.facebook.com/KhaosodEnglish