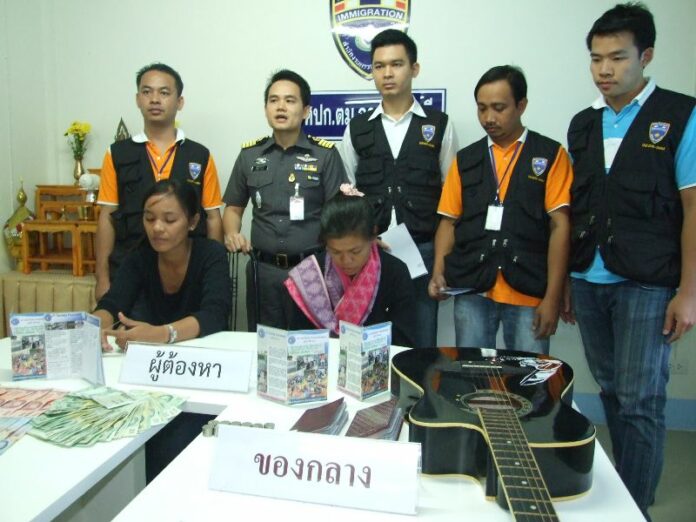 (22 November) Udon Thani police have arrested two Filipino missionaries accused of posing as fund raisers for the relief effort of Typhoon Haiyan and pocketing the donation money for themselves.
The police said they had been informed by a charity group called JC Society Foundation that two citizens of the Philippines have been claiming to work for the charity and raising donation under the name of the foundation in many provinces, such as Bangkok, Chonburi, Phuket, Ubon Ratchathani, and Udon Thani.
According to complaint filed to the police, the two suspects would perform music in tourist attractions or crowded places, such as shopping malls, and displaying fake documents claiming to represent JC Society Foundation. The suspects would also reportedly pretend to register the names of those who donated their money.
Detective police officers later located the two suspects as they were playing guitar and soliciting for donation opposite Napapai Hotel in Udon Thani province. The police apprehended the suspects and sent their names as printed on passports to the JC Society Foundation for verification. The suspects were identified as Ms.Minerva Macapili Bedana and Ms.Juana Espelita Hoyos
Upon hearing confirmation that the suspects do not exist in the charity database, the police promptly arrested the two and escorted them to police station, where the suspects reportedly confessed that they were missionaries working in a church in Manila and later devised a plan to pose as fund raisers of JC Society Foundation in Thailand.
According to the police, the suspects told them they simply printed out official-looking documents from the foundation′s website and frame them in plastic cover to fool unsuspecting donors.
Ms. Bedana and Ms. Hoyos also reportedly told the police they would return to the Philippines every two months before coming back to Thailand again for further scamming, as their tourist visas would expire after two months.
The suspects also reportedly said the latest trip they made to Thailand was after Typhoon Haiyan struck the Philippines, causing devastating damages to the nation, and they claimed to their donors that the donation money would be sent to assist the victims in affected areas.
A senior police estimated that the two Filipinos had gathered "hundreds of thousands" baht throughout their alleged frauds.
Ms. Bedana and Ms. Hoyos were charged with soliciting for donations without permission. The police expect representatives from JC Society Foundation to file charges on using counterfeit documents soon.
The police also urged citizens allegedly scammed by the two suspects to file charges against the pair.
For comments, or corrections to this article please contact: [email protected]
You can also find Khaosod English on Twitter and Facebook
http://twitter.com/KhaosodEnglish
http://www.facebook.com/KhaosodEnglish