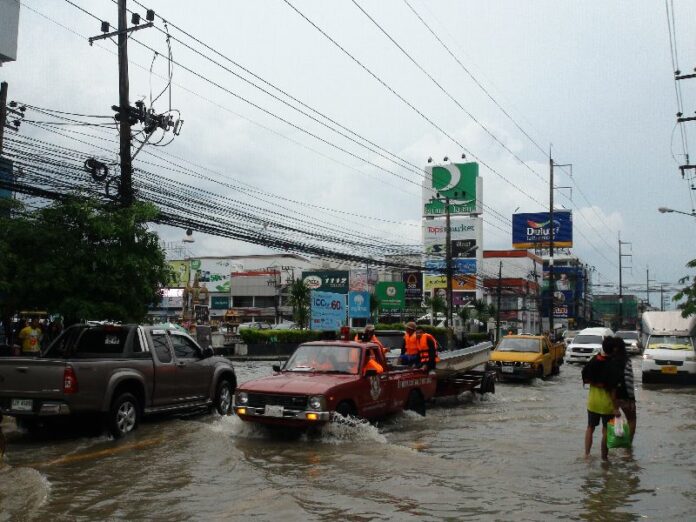 (23 November) Fishermen and tourists have been advised to be wary of the particularly strong waves lashing at many popular beaches and islands in the Andaman Sea.
Scores of boats have been sunk or disabled by the waves which were measured to be at least 3-4 metre high in some areas.
Among the most affected areas were popular tourist destinations such as Ao Ton Sai on Phi Phi Islands, where at least 20 boats were sunk as they anchored near the shore, including a 400-seat ferry ship used in transporting tourists to the island. No injury or death has been reported.
Three boats which ferried tourists to Koh Hong Island in the area of Than Bok Khorani National Park were also damaged by the waves, officials said, resulting in 19 tourists and 3 crew members stranded on the islands.
All tourists were later safely transported to the mainland, officials said, but as a precaution the authorities have ordered all tourist ships and boats not to leave the shores until the weather improves.
Meanwhile, Phuket island has been subject to heavy rain throughout the night, but no flood has been reported. Waves 2-3 metre high have been lashing at the shore, forcing many tour companies to cancel their sea trips, and officials issuing warning for bigger ships to navigate the seas with extreme caution.
Many speed boats, ?long-tail? boats, and fishing boats are damaged by the unusually strong seas in Phuket province, officials added.
Pol.Lt.Col. Chatchai Sakdi, chief of Phuket Marine Police, said the storms have taken by boat owners in the province by surprise, leaving them no time to retrieve the boats they had anchored in the open seas.
"Many tourists and locals are all surprised by the ferocity of the waves," Pol.Lt.Col. Chatchai said, "They have not seen anything like this since the tsunami incident [in 2004]".
Elsewhere in the southern region, rain storms and floods have damaged many roads, railways, and farmlands. The province of Surat Thani is particularly hard-hit by the storms, with 150,000 people affected.
The Meteorological Department has warned that the strong weathers in the southern seas will continue until 24 November.
Citizens and tourists in the provinces of Prachuab Kiri Khan, Chompon, Ranong, Surat Thani, Nakorn Si Thammarat, Phang Nga, Phuket, Trang, Krabi, and Satul should be vigilant of the extreme weathers, the statement said.
For comments, or corrections to this article please contact: [email protected]
You can also find Khaosod English on Twitter and Facebook
http://twitter.com/KhaosodEnglish
http://www.facebook.com/KhaosodEnglish