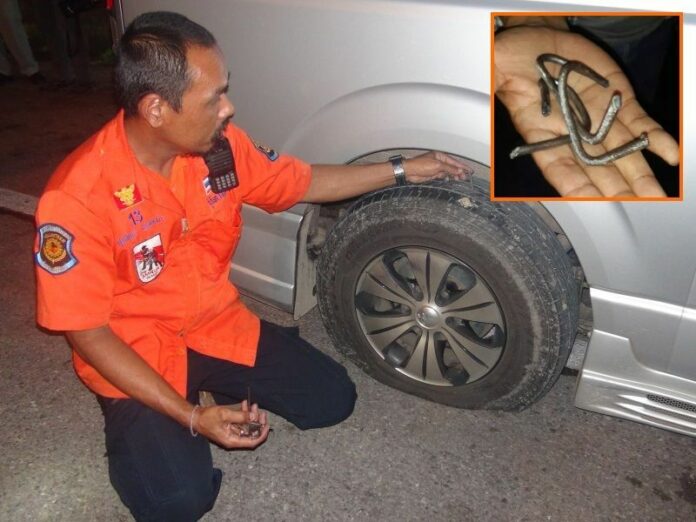 (24 November) Metal caltrops laid by unidentified individuals on the Bangkok-bound highway in Petchaburi and Prachuab Kiri Khan province have damaged more than 100 vehicles last night.
The police started receiving first reports of the incident yesterday evening that numerous vehicles encountered small metal spikes scattered along wide stretches of Petchakasem Road, which connected Bangkok with 14 southern provinces.
Despite the efforts by police officers from various police stations and local rescue workers in combing the area for the scattered caltrops, new vehicles kept running over the spikes, as the drivers could not spot the small metal spikes in the darkness of the night.
Our correspondent reported that chaos quickly descended on stretches of the highway, as very few vehicles had spare tires with them, and repair services were working frantically to replace the damaged wheels along the highway with limited supplies.
By morning, the police have recorded at least 100 cars whose tires had been punctured by the caltrops. Vehicles damaged by the caltrops include cars, pick-up trucks, public minivans, cargo trucks, and public buses.
Despite the widespread damage caused by the spikes, no injury has been reported, police said.
All of the caltrops were found on Bangkok-bound side of the road, rescue workers and police said, leading to speculation that the spikes were placed there to disrupt the flows of anti-government protesters headed for Bangkok from the southern region – the stronghold of the opposition party.
Indeed, among the vehicles damaged in the incident were 10 buses which were ferrying hundreds of anti-government protesters to join the mass rally in Bangkok. Enraged by the incident, the group briefly blockaded the road, before continuing to Bangkok around 01.00 this morning.
Leaders of the anti-government protests have been mobilising their supporters for a major rally on 24 November.
Mr. Suwiwat Promma, deputy director of Huay Mongkol Highway Rescue, said many of the caltrops were found in Hua Hin district.
"No matter who′s behind this, it′s a wrong and horrible action," Mr. Suwiwat fumed, "The damaged cars could have plunged into the roadside canal or crashed into trees and killed a lot of people. I condemn this horrible action".
A senior police officer in Prachuab Kiri Khan also voiced his suspicion that the caltrops were deliberatedly placed by "individuals with ill-intention" to disrupt the anti-government protesters. He added that some police vehicles were also damaged by the spikes.
For comments, or corrections to this article please contact: [email protected]
You can also find Khaosod English on Twitter and Facebook
http://twitter.com/KhaosodEnglish
http://www.facebook.com/KhaosodEnglish