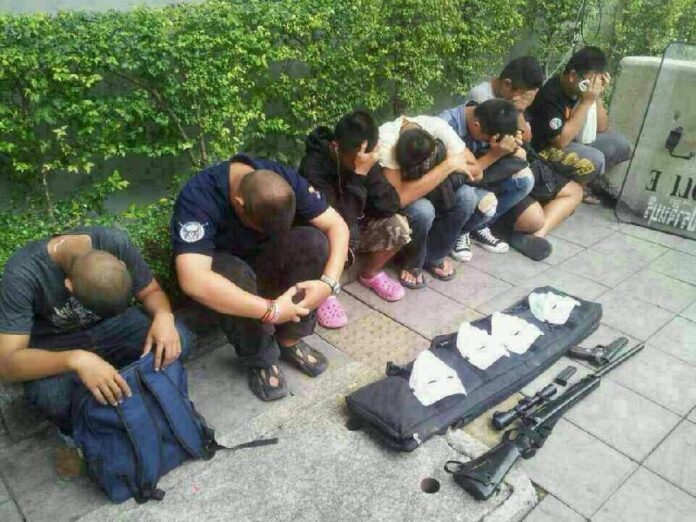 (24 November) The police have apprehended a group of teenagers who carried BB guns into anti-government protest site near Ratchadamnoen Avenue.
Seven men, all of them underage individuals, were stopped at a police checkpoint in Khattiyani Intersection as a part of police procedure to search for weapons that could be smuggled into the protest site.
The police officers were surprised to find what resembled a sniper rifle and a handgun in backpacks carried by the teenagers.
Although the police quickly realised that the weapons were in fact BB guns, the rumour of police intercepting snipers has spread widely on the social network – both anti-government protest leaders and governmental officials have in recent days claimed that shadowy armed militants are attempting to infiltrate the protest site and cause chaos.
For instance, Mr. Suthep Thaugsuban, the former Democrat MP now leading the protests, told the crowd on stage he is being targeted by government-allied snipers who could finish him off at any time.
The fact that the teenagers were carrying Guy Fawkes Masks at the time also compounded fear that the group was related to the protests; anti-government protesters in the past have adopted the white masks as their symbol.
The concern over the news eventually forced spokesman of the Bangkok Metropolitan Police to announce in a press conference earlier this afternoon that the teenagers were carrying the BB guns to film their own parody of the popular first-person-shooter video game Payday.
The teenagers decided to walk through the anti-government protests to board their buses to the venue for film shooting, the police spokesman said, before they were eventually stopped and searched by the police at the checkpoint.
"The young individuals had no intention to cause any disorder in the rallies," said the spokesman, Pol.Maj.Gen. Adul Narongsak, "Their guardians were summoned to pick them up and the BB guns. No charge was filed against them".
For comments, or corrections to this article please contact: [email protected]
You can also find Khaosod English on Twitter and Facebook
http://twitter.com/KhaosodEnglish
http://www.facebook.com/KhaosodEnglish