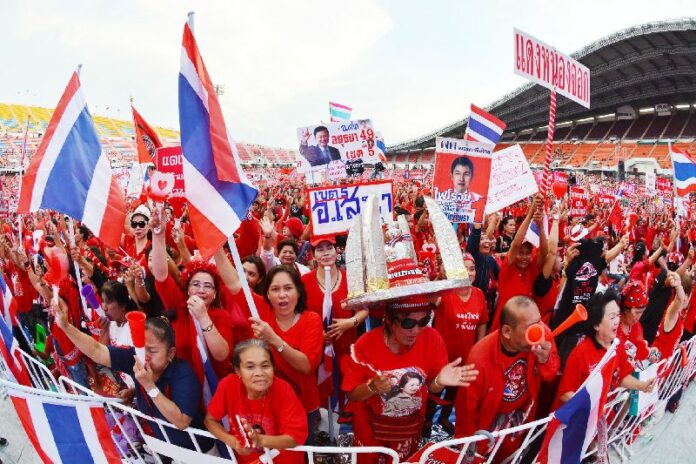 (24 November) Thousands of Redshirts have entered Bangkok to attend the rally at Rajamangala Stadium, displaying their opposition against what they describe as a "silent coup".
It is the second show of force of the Redshirts in less than two weeks. More than 50,000 Redshirts have previously rallied at the stadium last week to protest the ruling of the Constitutional Court which struck down legality of the government′s effort to amend the 2007 Constitution.
The ruling Pheu Thai Party has repeatedly vowed to revise the charter, which was drafted by military-appointed panel after the 2006 military coup, calling it an obstacle to Thai democracy.
Following the verdict, leaders of the Redshirts and Pheu Thai Party have accused the Constitutional Court of harbouring hostility against the elected government and conspiring with anti-government faction to undermine the legitimacy of Prime Minister Yingluck Shinawatra′s administration.
The National United Front of Democracy Against Dictatorship (UDD) has called for its supporters to attend the rally at Rajamangala Stadium, which it terms as fight against a "constitutional coup".
Ms. Thida Tojirakarn, chairwoman of the UDD, said yesterday that the situation of the country is now in a "perilous" turning point in which the ammart (feudal elite) is using its power to overthrow democratic regime.
"We have seen the display of power by the Constitutional Court," Ms. Thida said, "If we don?t fight now, all the victories we have gained would be in vain", adding that the Constitutional Court′s action amounts to a silent coup against the Legislative Branch.
She urged all Redshirts in Bangkok and nearby provinces to pack their bags and prepare for a prolonged "struggle", signaling the possibility that the Redshirts are planning a long-term rally.
The show of force of the Redshirts also coincides with the mass rally called by the anti-government protest leader Suthep Thaugsuban at Ratchadamnoen Avenue, but UDD leaders insisted they would not march from their position to confront their rival protesters.
"We are aware that if the Redshirts decide to march out, some groups will exploit the situation for political ends," said Mr. Nattawut Saikua, a leader of UDD and Pheu Thai MP, "[Even] if Mr. Suthep′s protesters proceed to besiege governmental buildings, we will still rally in our position".
He also warned that if the anti-government protesters escalate their campaign by seizing governmental buildings, the crisis similar to the turmoil in 2006 might return to Thailand.
For comments, or corrections to this article please contact: [email protected]
You can also find Khaosod English on Twitter and Facebook
http://twitter.com/KhaosodEnglish
http://www.facebook.com/KhaosodEnglish