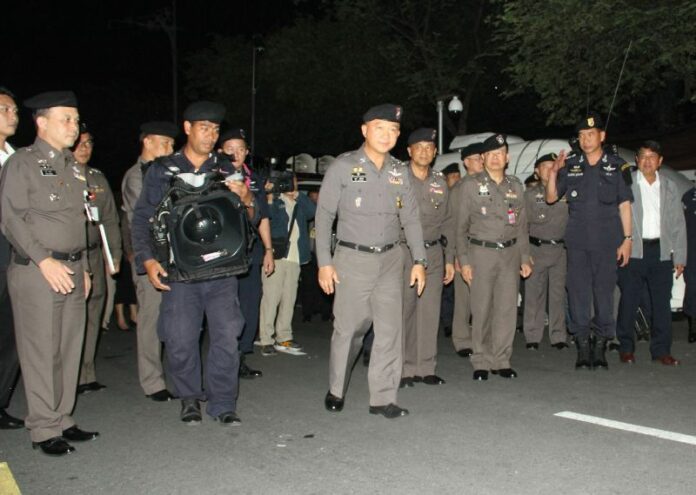 (24 November) The Crown Prince has expressed his concern over the ongoing political turmoils, according to chief of the Bangkok Metropolitan Police.
"His Royal Highness has summoned me to his palace earlier this evening", Pol.Gen. Kamronwit Thoopkrachang said, "He is very concerned about his royal subjects. He doesn?t want to see Thai people fighting each other".
Pol.Gen. Kamronwit also said the Crown Prince has explicitly urged all Thais to defuse the tension by dialogues and peaceful negotiations. "I think we all should obey His Royal Highness," the police chief added.
He delivered the comments during a press conference after inspecting the perimeter of the anti-government protesters who are rallying in a massive show of force around Ratchadamnoen Avenue and the nearby vicinity. Pol.Gen. Kamronwit estimated that at least 75,000 people joined the rally, but media reports have put the figures at 100,000, while a protest leader insisted over 440,000 people were present.
Mr. Suthep Thaugsuban, the former Democrat MP who is now leading the protests, has previously promised a showdown in the final bid to "overthrow" the government of Prime Minister Yingluck Shinawatra.
Some of the protesters under the name People and Student Network for Political Reform of Thailand have splintered from the main rally site at Ratchadamnoen Avenue to block the roads around Nang Loeng Intersection. Pol.Gen. Kamronwit said he regretted the move, as it directly interferes with the Crown Prince′s scheduled travel route.
"They refuse to move and open the roads for the royal convoy," Pol.Gen. Kamronwit told reporters.
Asked whether the police are prepared for the coordinated marches of the protesters which are expected to take place on 25 November, Pol.Gen. Kamronwit said the police will mobilise in fullest way to maintain public order during the marches.
"But I plead to the protesters, don?t cause troubles to the people who are not involved in the protest, and please don?t disrupt the route of the royal convoy," Pol.Gen. Kamronwit said.
He stressed that the police have no plan to crack down on the protesters, and that the police will rely on negotiations with the protesters to resolve any tension.
If the protesters do indeed march to besiege House of Parliament or Government House as feared by many officials, the police would have appropriate measures to contain the situation, according to the Bangkok police chief.
For comments, or corrections to this article please contact: [email protected]
You can also find Khaosod English on Twitter and Facebook
http://twitter.com/KhaosodEnglish
http://www.facebook.com/KhaosodEnglish