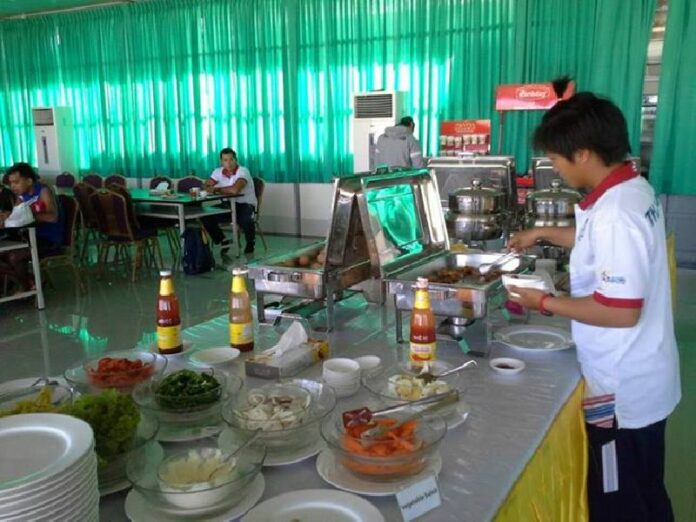 (15 December) An official has dismissed allegation that the Thai athletes competing in the SEA Games have been provided with meager lunch boxes.
The athletes, who are facing competitors from other Southeast Asian nations in the tournament hosted by Myanmar, are forced to live off lunch boxes containing small amount of food, according the allegation which arose on the social network over the weekend.
The meal simply consisted of rice, an egg, and a handful of vegetables and pork, the report alleged.
The claim has been seized by many anti-government critics on the social network as proof of the government′s corruption, since the meals appear to be inconsistent with the budget allocated to the tournament by the government and its sponsors.
However, Captain Kingkarn Charoenchit, the director of Thai athletes? kitchen division, told Khaosod that the lunch box seen in the photo is one of the 1,600 extra food units provided to the athletes and staff.
All Thai sports teams are happy with their food, Captain Kingkarn said. He also told our correspondent there has been no problem of food shortage in the teams.
Captain Kingkarn added that he had no idea why some people in Thailand would turn the matter into a controversy.
Responding to the allegation of poor food for the athletes, the Royal Thai Embassy in Myanmar also posted photos of athlete canteen in its Facebook account to assure the public that the food provided to the sports teams is perfectly adequate.
For comments, or corrections to this article please contact: [email protected]
You can also find Khaosod English on Twitter and Facebook
http://twitter.com/KhaosodEnglish
http://www.facebook.com/KhaosodEnglish