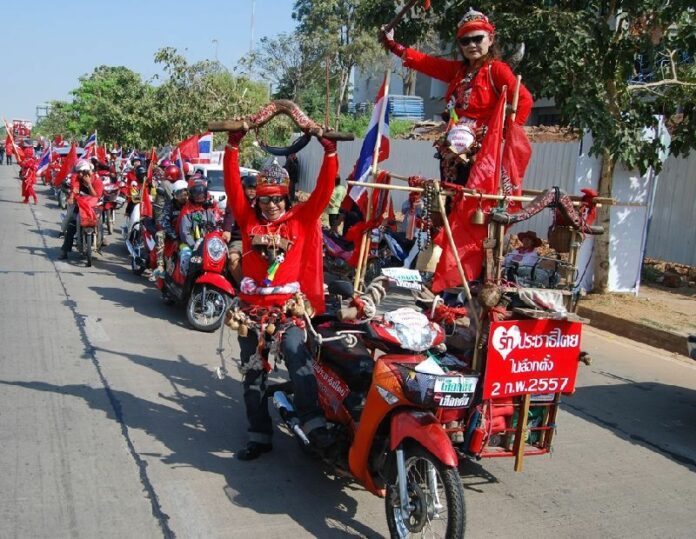 (15 December) Thousands of Redshirts have paraded in a large convoy around the northeastern city of Khon Kaen today to affirm their support for the next general election, scheduled to take place on 2 February 2014.
The Redshirts said they are against the plan suggested by anti-government protest leader Suthep Thaugsuban, which called for an unelected ?People′s Council? to be established and transform Thailand into an ?absolute democracy? before permitting an election to take place.
More than 5,000 Redshirts joined the convoy, which consisted of 500 motorcycles, 100 pick-up trucks, and 50 cars. Two 10-wheel trucks equipped with loudspeakers led the convoy, blaring pro-Redshirts music and giving speeches critical of Mr. Suthep′s campaign to unseat Prime Minister Yingluck Shinawatra.
Banners on the convoy include phrases such as "Love Democracy, Go to Election", "We want election, not selection by Suthep", "Don?t let the minority drag democracy into the canal".
The 1-kilometre long convoy passed through many parts of Khon Kaen′s city centre before stopping at the park opposite Central Plaza Shopping mall, where they proceeded to erect a stage and hold a rally.
Organisers of the motorised parade said the Redshirts are from 20 provinces of the northeastern region, a traditional stronghold of the Redshirts movements.
Mr. Thanik Maseepitak, a co-organiser of the protest, said he cannot accept Mr. Suthep′s demands that Ms. Yingluck resign from her caretaker position.
He branded Mr. Suthep′s organisation, the People′s Committee for Absolute Democracy With the King As Head of State (PCAD), as "rebels" and "political hooligans" who are committing "thuggish acts" against the nation.
"The Redshirts have vowed to fight the rebels and underlings of the ammart (feudal elite), in order to eradicate them from the Thai society," Mr. Thanik said.
Ms. Panwadee Tantisirin, chairwoman of Khon Kaen′s We Love Yingluck-Thaksin Society, said the Redshirts in the region will be coordinating closely with Pheu Thai Party in preparation for the next election. She also predicted that "the entire province" will vote for Pheu Thai Party again.
She also urged the Democrat Party, which is backing Mr. Suthep′s protests, to participate in the 2014 election and let the people decide who they want to vote for; the Democrat Party has been undecided whether to run in the next election.
Furthermore, Ms. Panwadee said, local Redshirts will send Government House in Bangkok 10,000 postcards expressing their support for Ms. Yingluck to stay as caretaker Prime Minister until the election.
She warned that the Redshirts "will fight to the end" if Mr. Suthep managed to overthrow Ms. Yingluck′s government and derail the plan for 2014 election.
For comments, or corrections to this article please contact: [email protected]
You can also find Khaosod English on Twitter and Facebook
http://twitter.com/KhaosodEnglish
http://www.facebook.com/KhaosodEnglish