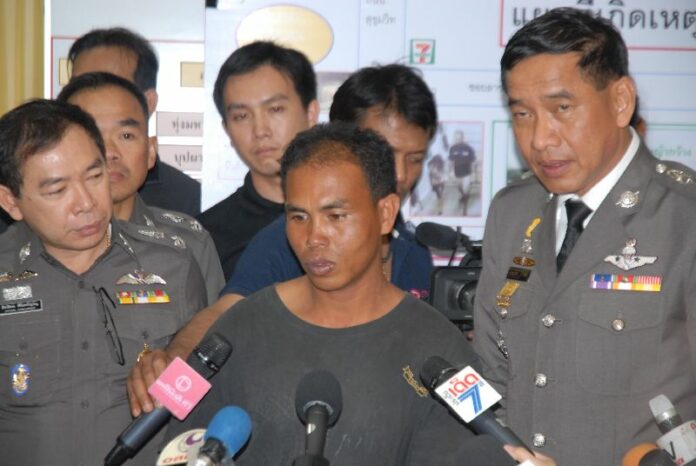 (16 December) The alleged murderer of nong Cartoon, the 6 year old girl who had gone missing, has claimed he had previously raped and murdered three other girls.
Mr. Nui, a homeless man with no registered surname, said in the press conference after his arrest that he had raped "more than ten" girls around the country. Some of them he murdered, Mr. Nui claimed, and some he allowed to survive.
He said he cannot control his emotion whenever he encountered a vulnerable child.
The case of nong (little sister) Cartoon has been captivating the nation′s attention since 6 December, when Cartoon′s father alerted the police that he had lost the child during a folk music (lookthoong) concert near Bearing BTS Station in Bangkok.
Reportedly, he took Cartoon to see the concert, but she soon became sleepy, so he left his daughter at the pick-up truck to sleep and returned to the concert. When he returned at 23.00, he said, he could not found his daughter there.
CCTV records from Bearing BTS Stations and nearby 7-Eleven stores showed an unidentified man taking the girl across the road. The images were later shared on the social networks, and posted in every police station across the country, in hope that she would be located.
However, on 15 December a skull along with a skeleton, and floral purple short pants with a bar of chocolate in one pocket were found in a secluded wooded area in Bangkok′s Bang Na district.
The skull was partly covered with dirt when it was found. Initial investigation found no direct knife-inflicted cut on it, leading to the speculation that the reptile may have dug up the body and torn away the flesh.
DNA tests revealed that the clothes belongs to Cartoon police said, but results of the forensic tests on the bones have not yet released to the public.
Once nong Cartoon′s father saw the skull, he broke into tears and crouched over it, tearfully saying that he should not have left her alone.
According to Cartoon's father, whose name is withheld per Khaosod′s printing regulations, the chocolate found in the abandoned clothes was given to Cartoon on the day he lost her.
Later in the same day, police in Nong Khai province arrested the man believed to be captured on the CCTV footage with the missing girl. The man was alter identified as Mr. Nui, or Tingtang, 32, a homeless man who, police said, has served a previous jail term in Khon Kaen province for charges related to child abuse.
Reports say Mr. Nui had been hired by a traveling lookthoong band to help assemble concert stages throughout the country, and he was working at one such site in Nong Khai province when the concert organiser noticed that Mr. Nui resembled the man he has seen in the news. The organiser later called police.
Upon the arrest, Mr. Nui confessed to his crime, stating that he saw the girl when he went out to buy beer. He then reportedly took her to the snack shop, and lured her to a secluded place, where he raped her and strangled his victim afterward.
Mr. Nui claimed he was not aware that the girl was dead.
In his bag, police also found the clothes he allegedly wore on the night of the incident, and female underpants, which he claimed to belong to his girlfriend.
As for Mr. Nui′s claim that he had murdered other victims, police reported that there are two unsolved murders in Loey province and one case in Bangkok′s Bang Bon district which could have been committed by Mr. Nui.
Mr. Nui has been charged with numerous offences, including murder, abuction, and rape. Further investigation is proceeding.
For comments, or corrections to this article please contact: [email protected]
You can also find Khaosod English on Twitter and Facebook
http://twitter.com/KhaosodEnglish
http://www.facebook.com/KhaosodEnglish