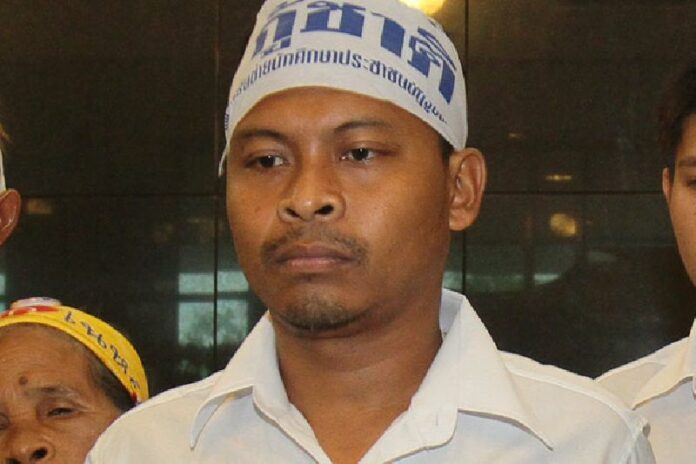 (16 December) Coordinator of an anti-government network has urged the government to prosecute a Redshirts student activist for allegedly insulting the monarchy.
Mr. Uthai Yordmanee, leader of Student and People Network For Political Reform of Thailand, said in a press conference that Mr. Ekkaphob Lueangra, a self-described vocational student who supports the Redshirt movements, has gravely defamed the monarchy in his speech at Rajamangala Stadium, where the Redshirts were holding mass rallies, on 28 November 2013.
Although Mr. Uthai did not specifically identify the parts of Mr. Ekkaphob′s speech which he considered as a lese majeste offence, he nevertheless called on Mr. Jarupong Ruangsuwan, chairman of Pheu Thai Party, and Mr. Chaturon Chaisang, Minister of Education, to take legal responsibility for Mr. Ekkaphob′s remarks.
The two politicians must be held accountable since they allowed Mr. Ekkaphob to deliver his speech on the rally stage in the stadium, Mr. Uthai said.
"Pheu Thai Party has always claimed to be loyal to the institution [of the monarchy]" Mr. Uthai said, "Therefore, to allow the individual with such behaviour to give speech that greatly insults the monarchy … is something the two cannot deny responsibility".
The Student and People Network will give the government 7 days to locate Mr. Ekkaphob and have the police arrest the man, Mr. Uthai said. If Mr. Jarupong and Mr. Chaturon failed to do so, he warned, they must resign from their caretaker positions.
Prime Minister Yingluck Shinawatra would also have to show her responsibility for the incident, Mr. Uthai added.
Lese majeste, or insults of monarchy, is punishable up to 15 years in prison per offence according to Article 112 of Thai Criminal Codes.
Anti-government and Yellowshirts factions routinely accuse the government of insulting the monarchy, or discreetly encouraging republican activists to disrespect the monarchy.
For comments, or corrections to this article please contact: [email protected]
You can also find Khaosod English on Twitter and Facebook
http://twitter.com/KhaosodEnglish
http://www.facebook.com/KhaosodEnglish