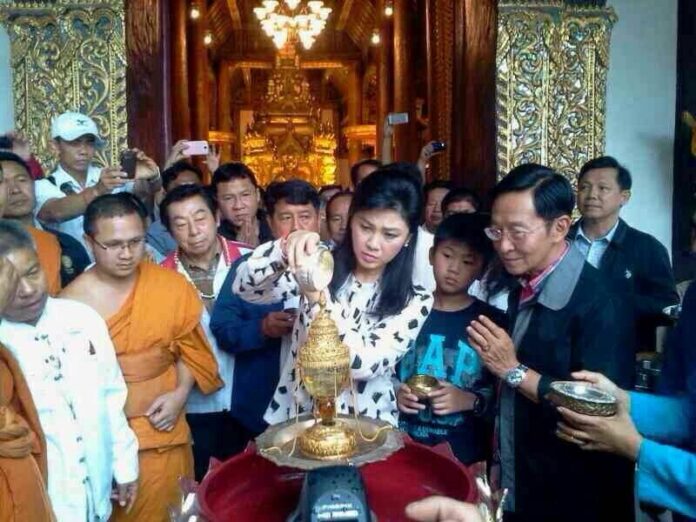 (16 December) Pheu Thai Party has condemned anti-government protest leader Suthep Thaugsuban for threatening Prime Minister Yingluck Shinawatra′s 10 year old son to leave the country.
During his speech on the stage of the anti-government People′s Committee for Absolute Democracy With the King as Head of State (PCAD) protest last night, Mr. Suthep said that if the Prime Minister does not quit her position as acting Prime Minister now, she will find herself with no country to live in, as well as her son, Suphasek Amornchat.
"This is her last chance!" Mr. Suthep told the crowd.
Mr. Suthep also sarcastically advised Ms. Yingluck to find her son a tutor in Arab language, since her family might be expelled from Thailand and join her brother, former PM Thaksin Shinawatra, who is living in exile in Dubai soon.
Prime Minister's Office Deputy Spokesperson, Ms. Sunisa Lertphakawat, said at Pheu Thai Party headquarters that her party condemns Mr. Suthep′s remarks, which she described as "inappropriate, verging on making threats and spreading fear".
"Is this [not] an act fitting for a ransom kidnapper?" Ms. Sunisa said, "Since he cannot do anything to the mother, so he will vent it out on her son?"
She added that a senior politician like Mr. Suthep should not resort to this harsh language. "It′s how you use a child as a victim of politics", Ms. Sunisa insisted.
According to the Deputy Spokesperson, many people have already filed their complaints to Pheu Thai Party Office about Mr. Suthep′s speech.
"We ask everybody to logically think of the situation from their own point of view: what if such things happen to your own children?", said the deputy spokesperson "Please keep politics away from an innocent child".
Ms. Sunisa also dismissed PCAD's demand for the Prime Minister's resignation, explaining that it is impossible and against the constitution.
She also derided Mr.Suthep's claims of protecting the politics, democracy, rule of law and state of law, claiming that Mr. Suthep was actually the one who abuses the constitution and the country's rule of law.
It is not the first time Ms. Yingluck′s son, better known to the Thai public by his nickname ?Pipe?, appears to be targeted by anti-government protests. Last month a report emerges that a group of parents with anti-government leaning blew whistles at Pipe in the compound of his school.
The harassment has been praised by a number of anti-government critics on the social network, who view it as a necessary method to inform Ms. Yingluck how much she is allegedly hated by the public.
Meanwhile, the founder of Child Protection Foundation, Mr. Montri Sintawichai, also criticised Mr. Suthep for using 10 year old Suphasek to pressure his mother. Such rhetoric was used to fan the hatred against Shinawatra family, including the young Mr. Suphasek, said Mr. Montri, who is also known as Kru Yun.
The incident of whistle-blowing at Suphasek′s school and Mr. Suthep′s speech directly affect the boy, Mr. Montri warned.
"It is unfair for the boy, as he is not in the status that is relevant to politics. He's not even old enough to elect anyone into the House of Representatives", said Mr. Montri, "It is inappropriate if we don't separate him from the role of his mother."
Mr. Montri also commented that Ms. Yingluck′s son should be protected and left outside the political games.
"Those people who listen to Mr. Suthep's speech without questing his action are quite worrying", added Mr. Montri, "if we use children as a pawn in any political game, it means adults would no longer have to consider about how to express their opinions toward children in an appropriate way. That is truly dangerous."
For comments, or corrections to this article please contact: [email protected]
You can also find Khaosod English on Twitter and Facebook
http://twitter.com/KhaosodEnglish
http://www.facebook.com/KhaosodEnglish