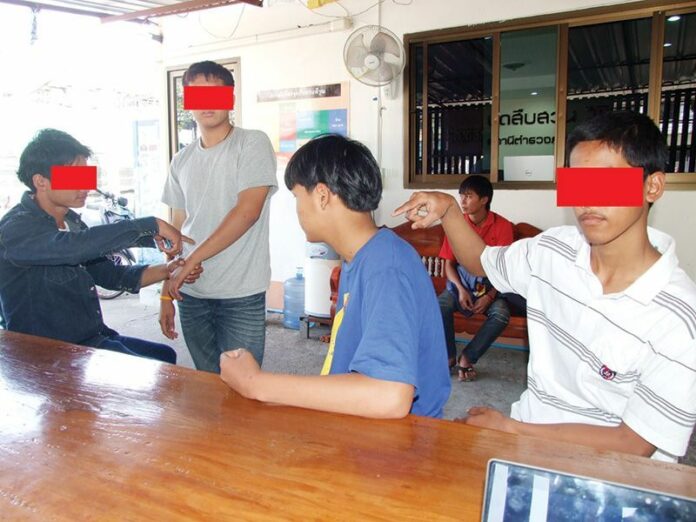 (2 January) Police in Udon Thani province have arrested two young men accused of shooting a group of vocational students during their New Year parties.
The incident took place during the night of New Year Eve in Chiang Yuen district, where police received reports that 5 students had been injured in a shooting.
One of the wounded students, Mr. Nattachai Chanakul, 20, had been shot in his head and stomach. remains in critical condition, but the doctors said they had successfully removed the bullets. Four other students have suffered from less severe gunshot wounds.
The wounded students said they are currently enrolled at a vocational school in Udon Thani. On the night of the incident, they said, they and their friends were gathering at Mr. Nattachai′s house for the count down party when suddenly hail of bullets started to hit the roof of the house as midnight approaches.
The students told police that they later realised that another group of youths at a nearby house across the rice field were firing two rifles into the air for entertainment. When the students ran toward the youths and told them to stop discharging their firearms, they said, two of the youths simply opened fire at them.
Mr. Nattachai and four others were hit by the bullets and the rest of the students ran for their lives into the night, the students told police.
The police later arrested Mr. Wirayuth Tangmandee, 19, and a 16 year old man on suspicion of committing the crime. The police also uncovered the rifles used in the incident and a number of ammunition.
Mr. Wirayuth claimed he had been attacked once by the student group in the afternoon of New Year′s Eve, and the same group later gathered near his house and throwing stones at him as he fired his gun into the air. The suspect explained that he and his friend became enraged and opened fire at the students.
The name of Mr. Wirayuth′s friend cannot be undisclosed due to legal reason.
For comments, or corrections to this article please contact: [email protected]
You can also find Khaosod English on Twitter and Facebook
http://twitter.com/KhaosodEnglish
http://www.facebook.com/KhaosodEnglish