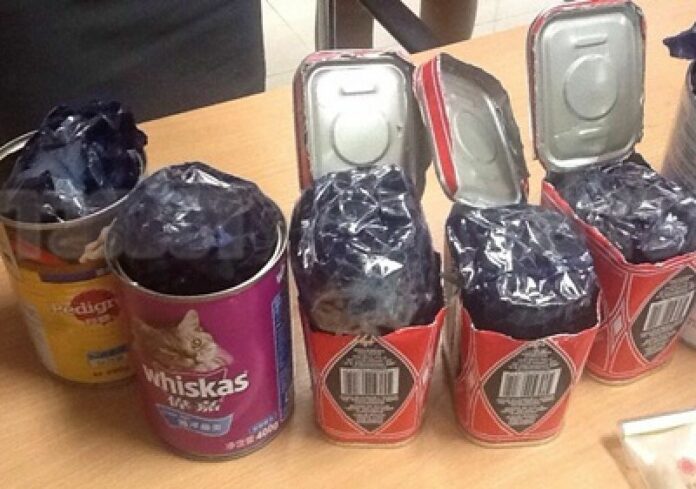 (2 January) A woman has been arrested at Chiang Mai Airport after immigration police discovered crystal meth stuffed in her cat food cans and other food packages.
According to Pol.Lt.Col. Udom Suwannalekha, Deputy Director of Chiang Mai immigration office, his team has received reports that a number of narcotic substances would be transported from Macao to Thailand via Chiang Mai Airport. He then arranged an investigation team to search for the shipment of the illicit substances.
Police later x-rayed the luggage of Ms. Chutima Boonsam-ang, 23, who was flying home from Macao and noticed suspicious objects inside canned animal food and chocolate. A thorough search of the cans revealed 3 kilograms of crystal methamphetamine stuffed inside the 8 cans.
Ms. Chutima has several records of travelling in and outside of the Kingdom, police said. According to her testimony, she has been helping her parents' business in Malaysia, before travelling to Macao where a Chinese man gave her the cat foods and other items for the pets she kept at home in Chiang Mai.
She claimed she did not know about the methamphetamine inside the cans.
Police said Ms. Chutima has been charged with possessing narcotic substances for sale illegally.
Yesterday police at Suvarnabhumi Airport also uncovered 2.3 kilogram of crystal meth inside the luggage of a man who claimed to be a Vietnamese monk.
Mr. Paisan Chuenjit, Deputy Director-General of Custom Department, identified the man as Mr. Nguyen Van Thiet, 64, and said the police searched his belonging after realising that his features matched the reports they had received from teams of police undercover agents.
Underneath Mr. Nguyen′s luggage the police found 2.3 kg of crystal methamphetamine – worth approximately 8 million baht – covered in a blue carbon paper and a plastic bag.
Mr. Nguyen then testified that he is a monk travelling from China's Sh?nzhèn province. As he was departing China with China Southern Airlines, a Vietnamese woman approached him to ask him to carry the item for her friend in Phuket, who will contact Mr. Nguyen by a phone call, he added.
There is no any evidence proving Mr. Nguyen′s identity as a monk, police insisted. Furthermore, he also traveled to Thailand on tourist visa and not a religious personnel visa, according to the custom officer.
Mr. Nguyen has been charged for possessing illicit substances and for bringing in the narcotic substance without permission. He will be prosecuted further by the Royal Thai Police Narcotics Suppression Bureau.
For comments, or corrections to this article please contact: [email protected]
You can also find Khaosod English on Twitter and Facebook
http://twitter.com/KhaosodEnglish
http://www.facebook.com/KhaosodEnglish