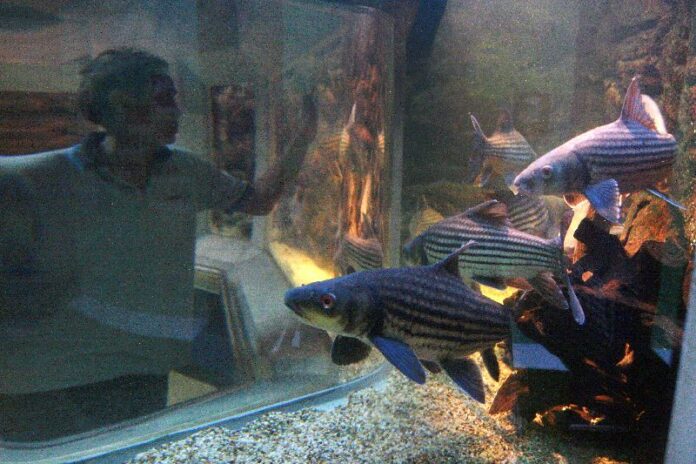 (21 January) Hundreds of rare fish are at risk of oxygen starvation after anti-government protests cut the electric supply to the headquarters of the Fishery Department.
Supporters of People′s Committee for Absolute Democracy With the King As Head of State (PCAD) marched to the Department and severed both water and electric supply to the buildings, in order to force the officials there to abandon their works.
PCAD has vowed a disruptive campaign against state agencies until Prime Minister Yingluck Shinawatra resigns.
But Mr. Niwat Sutheemeechaikul, Director of the Fishery Department, complained that more than 100 species of rare fish stored in the Department′s museum and research facilities are already suffering from the power cut imposed by PCAD.
The fish – both Thai and foreign – started to display signs of oxygen deprivation, such as swimming into the glass wall and moving slowly, according to Mr. Niwat.
The laboratory is also left with skeleton staff, as many officials have been forced to leave the facilities and work elsewhere by the protesters who showed up at the Department almost everyday, Mr. Niwat said.
Only a few security guards are currently stationed at the facilities to refuel the backup oxygen generator attached to fish storage, according to Mr. Niwat. He said the guards are forced to work in darkness as there is not enough fuel in the emergency generator to power the lights.
If the situation continues, Mr. Nitwat warned, all the fish would eventually die, which would be a great loss for the nation′s scientific pursuit.
He said his staff have tried negotiating with the protesters, but they have steadfastly refused to restore the power to the Department.
"We have to let it be," Mr. Niwat told our correspondent, "Since we can′t negotiate with the protesters, I don′t know what else we can do".
For comments, or corrections to this article please contact: [email protected]
You can also find Khaosod English on Twitter and Facebook
http://twitter.com/KhaosodEnglish
http://www.facebook.com/KhaosodEnglish