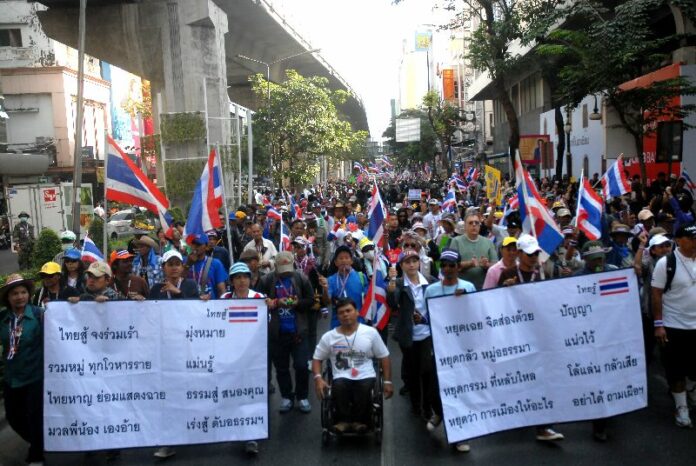 (21 January) Citing violent incidents in recent weeks, the government has imposed State of Emergency over Bangkok and neighbouring provinces.
Deputy Prime Minister Surapong Tovichakchaikul announced this evening that the emergency decree will last for 60 days.
The areas affected by the decree are Bangkok, Nonthaburi province, and some districts in the provinces of Pathumthani and Samutprakarn.
The announcement came amid the increasingly violent political crisis, in which anti-government protesters have come under grenade attacks, drive-by shootings, and smaller bomb attacks almost on a daily basis.
The last time Bangkok was under State of Emergency was almost 4 years ago, when the administration of then-Prime Minister Abhisit Vejjajiva invoked it to contain mass protests led by the United Front of Democracy Against Dictatorship (UDD) in April 2010.
Mr. Surapong said the emergency decree will help the security forces to prevent such violence in the future, and assist the police in apprehending any perpetrators.
Under the State of Emergency, the government and security forces will be granted with sweeping powers to contain the ongoing protests, such as imposing curfews, censoring the media, making arrests or searches without court warrants, and banning any political gathering.
Unlike the Internal Security Act, which had been imposed in some districts of Bangkok during the protests, the State of Emergency decree does not allow members of the public to take any legal action against the security forces if they have been affected in any way by the state operations.
However, Mr. Surapong insisted that the military and the police deployed near protest sites will not be armed.
Following the declaration of the emergency decree, the government will also form the Center for Maintaining Peace and Order (CMPO) to exercise the emergency powers allowed under the decree.
The CMPO will be headed by Pol.Gen. Adul Saengsingkaew, Chief of the Royal Thai Police, but its operational arms will be chaired by Labour Minister Chalerm Yoobamrung, officials said.
The decision of the government to appoint Mr. Chalerm in charge of the special administration is bound to raise the eyebrows of many observers, as Mr. Chalerm has been deeply despised by many anti-government protesters.
It would also be an official comeback moment for Mr. Chalerm, who lost his influential post as a Deputy Prime Minister last year due to, many analysts said, his tendency to make divisive remarks.
Corrections: A previous version of this article erroneously named Deputy Prime Minister Surapong Tovichakchaikul as the head of CMPO, whereas it should have read Pol.Gen. Adul Saengsingkaew. The mistake has been fixed.
For comments, or corrections to this article please contact: [email protected]
You can also find Khaosod English on Twitter and Facebook
http://twitter.com/KhaosodEnglish
http://www.facebook.com/KhaosodEnglish