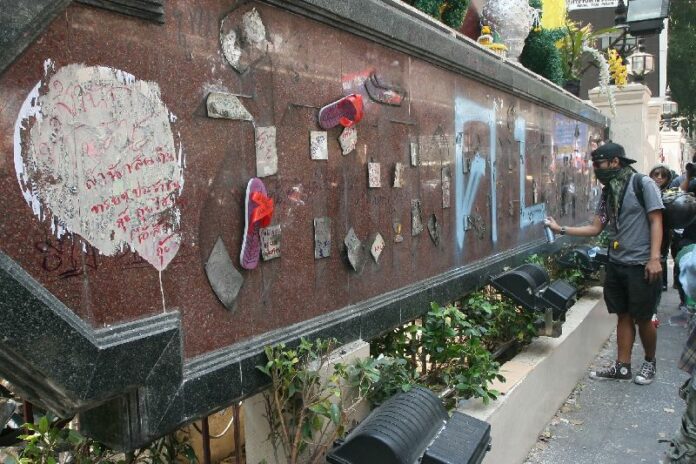 (22 January) Anti-government protesters are besieging the headquarters of the Royal Thai Police to prevent governmental officials from working there.
The protesters led by Student and People′s Network for the Reform of Thailand (SRT) marched from their rally site on Ratchaprasong Intersection to the headquarters when they heard reports that Prime Minister Yingluck Shinawatra was due to arrive at the building for meeting with top police officers.
The protest took place in spite of the enactment of State of Emergency over Bangkok, which in principle bans political gathering in the capital city.
Mr. Nitithorn Lamluea, a leader of SRT, said the protesters′ objective is not the occupation of any building, but to capture leaders of the government, such as Ms. Yingluck and Pol.Gen. Adul Saengsingkaew, chief of the Thai police.
Rallying in front of the headquarters, the protesters also used equipment to remove the sign of the Royal Thai Police from the wall. Some protesters later spray-painted the abbreviation of their group name on the vandalised wall.
Mr. Nitithorn said he had instructed the protesters to remove the sign since the police no longer represents the nation.
"They are not people′s police. They are police who serve tyranny. They are enemy of the people, and enemy of the country," Mr. Nitithorn said.
A separate group of protesters also marched to the Office of the Permanent Secretary of the Ministry of Defence on Chaeng Wattana Road, where Ms. Yingluck was attending a meeting with the newly formed Center for Maintenance of Peace and Order (CMPO) following the enactment of the State of Emergency over Bangkok last night.
Ms. Yingluck refused to talk to the press as she arrived at the Office.
Other top officials such as Deputy Prime Minister Surapong Tovichakchaikul and Minister of Finance Kittirat Na Narong also attended the meeting. Security was tight around the meeting venue.
Officials said Labour Minister Chalerm Yoobamrung, who has been assigned command of CMPO′s operational arms, would address a press conference later in the afternoon about scopes and powers CMPO wields under the emergency decree.
For comments, or corrections to this article please contact: [email protected]
You can also find Khaosod English on Twitter and Facebook
http://twitter.com/KhaosodEnglish
http://www.facebook.com/KhaosodEnglish