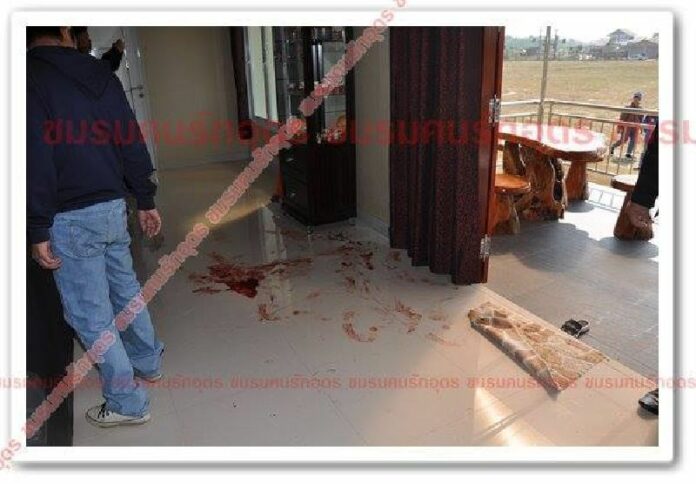 (22 January) A prominent Redshirt leader has been shot and wounded in a drive-by shooting on his residence in Udon Thani province.
Mr. Kwanchai Praipana, the leader of Udon Thani′s chapter of the United Front of Democracy Against Dictatorship (UDD), was reportedly wounded by gunshots in his arm and leg.
The incident took place at Mr. Kwanchai′s residence, which was located near the headquarters of his We Love Udon Group, at around 10.00 today.
Ms. Wongsamorn Prasatthong, 29, an official of We Love Udon Group, told police she was working in the office when she heard three loud bangs. She said she mistook them as firecrackers, but soon afterwards she heard salvo of gunshots and realised it was gunfire.
According to Ms. Wongsamorn, after the gunfire ceased, she looked at direction of Mr. Kwanchai′s residence and saw the Redshirt leader slumping onto the sofa near the front porch. She said she immediately called for help and transported Mr. Kwanchai to hospital.
Police later investigated the scene and found 39 rounds of 7.62 mm. bullet cases near the wall of Mr. Kwanchai′s residence, a distance of some 200 metre away from where Mr. Kwanchai was shot. The bullets correspond to ammunition used by AK-47 rifles, police said.
The police also uncovered CCTV footage showing the suspects on a grey Toyota Vigo pick-up truck. The vehicle was seen speeding away toward Pibulrak district of Udon Thani province.
Medical staff at hospital said Mr. Kwanchai was shot twice in the right arm, and once in the right thigh. The bullets "damaged important section of neurons," but Mr. Kwanchai′s condition has been described as stable.
Ms. Arphon Sarakham, Mr. Kwanchai′s wife, told our correspondent that usually her husband would go out to the front porch and read newspapers for every morning. When he finished reading this morning, she said, Mr. Kwanchai stood up and headed for the toilet, but was suddenly shot three times by the assailants.
After Mr. Kwanchai fell down, the gunmen fired many more rounds into the house before fleeing the scene, Ms. Arphon said.
Often described as a member of the UDD′s "hardcore" faction, Mr. Kwanchai has engaged in many provocative activities, such as setting bounty on Mr. Suthep Thaugsuban, leader of the anti-government protest movements.
For comments, or corrections to this article please contact: [email protected]
You can also find Khaosod English on Twitter and Facebook
http://twitter.com/KhaosodEnglish
http://www.facebook.com/KhaosodEnglish