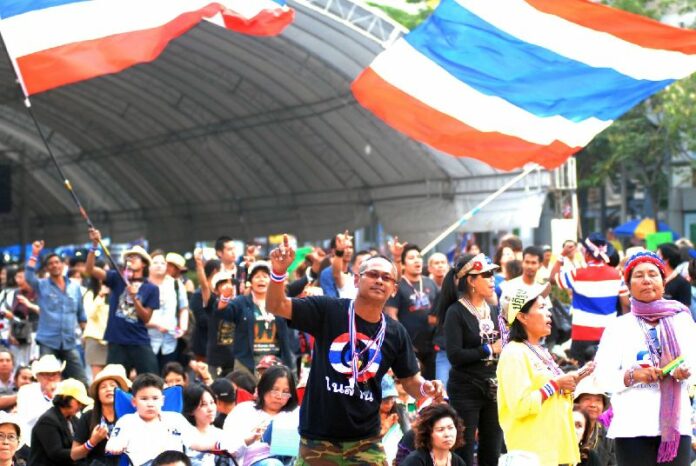 (22 January) The Director of National Security Council has asserted that government's enactment of emergency decree will not lead to the crackdown on anti-government protests.
Lt.Gen. Paradorn Pattanatabutr said the government has decided to invoke the State of Emergency yesterday in order to respond to escalating incidents in the past few weeks, which saw deadly grenade attacks on the protesters, drive-by shootings, and occupation of important state agencies by the protesters.
"The protesters might feel hostile, but I believe that when we make them understand the intention of the government behind the declaration of emergency decree, the people who attend the protests will understand, and some might even leave the protests," said Lt.Gen. Paradorn.
He stressed that the decree is aimed at assisting the police in providing public security. "There won′t be a crackdown on the protests," Lt.Gen. Paradorn added.
Nevertheless, Lt.Gen. Paradorn asserted that another objective of the emergency decree is to "manage" the media in order to ensure that the press will refrain from "inflammatory" reporting and stick to "presentation of facts", which will help the public exercise their judgment whether to join the protests.
Lt.Gen. Paradorn insisted that this power will not constitute as a censorship, as the authorities will simply invite editors some news agencies for a discussion, in which the officials will kindly ask them to refrain from broadcasting false, inflammatory, and violence-inciting contents.
"If they report only the facts, there will be no problem," said the Director of the NSC.
The government can also employ the powers of National Broadcasting and Telecommunication Commision (NBTC) to "manage" the media in a timely manner, Lt.Gen. Paradorn suggested.
Asked whether there would be any action against Blue Sky TV, a satellite channel allied to the anti-government protest leadership, Lt.Gen. Paradorn replied that "message has been sent. If they still continue to act inappropriately, we will have to invite them for discussion".
He added, "I believe the officials will exercise good judgment and find appropriate measures" in dealing with the channel.
For comments, or corrections to this article please contact: [email protected]
You can also find Khaosod English on Twitter and Facebook
http://twitter.com/KhaosodEnglish
http://www.facebook.com/KhaosodEnglish