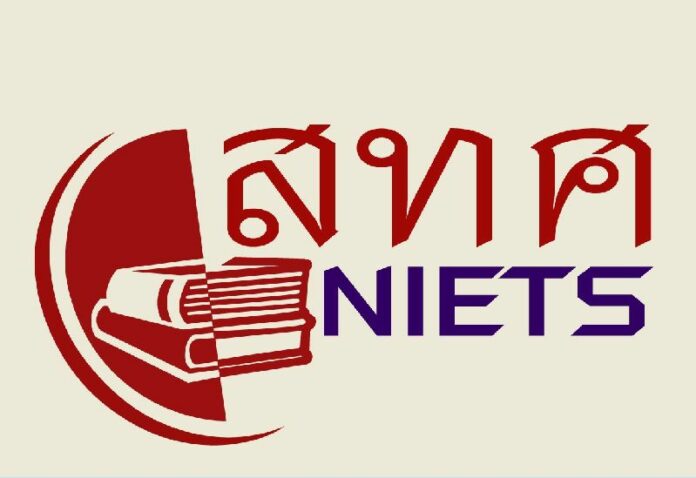 (11 February) Students are given free marks in their national university entrance exams thanks to the misspelling error in a question.
In the Ordinary National Education Test (ONET) for Matthayom 3 students, which was held on 8-9 February, a multiple choice question asks the students to identify a National Artist in the field of traditional performing arts.
While answer 2-4 bear the names of artists in irrelevant fields, answer 1 points to a misspelled version of Thai performing artist Jamriang Phutpradab; she was identified as Jamriang Phonpradab in the exam, causing much confusion to the students.
Following complaints from the students that there was no correct answer in the question,
The decision was taken after many Matthayom 3 students complained that the question the National Institute of Education Testing Service (NIETS) and the Exam Commission, agreed to nullify the question and hand out 2.5 points to all students.
Mr. Samphan Panpruek, NIETS Director, stated that he had urged his officials to thoroughly check the National Exam, which will be taken by Matthayom 6 (Year 12) students, prior to the exam's date on 15 – 16 Feb to prevent any further error.
"It is our human error at proofreading" said Mr. Samphan,"We have tried to reduce the error, and you can see we do not usually make mistakes".
Moreover, NIETS will hold a special round for Matthayom 3 and Matthayom 6 students who failed to attend the exams.
Students who wish to join the special exam session must submit their application forms at NIETS office of via EMS Post, Mr. Samphan said.
According to the NIETS director, the students must be able to prove that they had suffered "unavoidable incidents" – such as illness, accident, natural disaster, contagious deceases, and family tragedy – which caused them to miss the exams.
Meanwhile, Mr. Jaturon Chaisaeng, Minister of Education, said the mistake on ONET exam is "acceptable", as it is common for exams to contain "little mistakes".
Nevertheless, the minister stressed that tthe error must not take place again. He also defended the benefits of ONET exams as the national means to test the students′ skills, which is better than allowing individual schools to do the assessment.
For comments, or corrections to this article please contact: [email protected]
You can also find Khaosod English on Twitter and Facebook
http://twitter.com/KhaosodEnglish
http://www.facebook.com/KhaosodEnglish