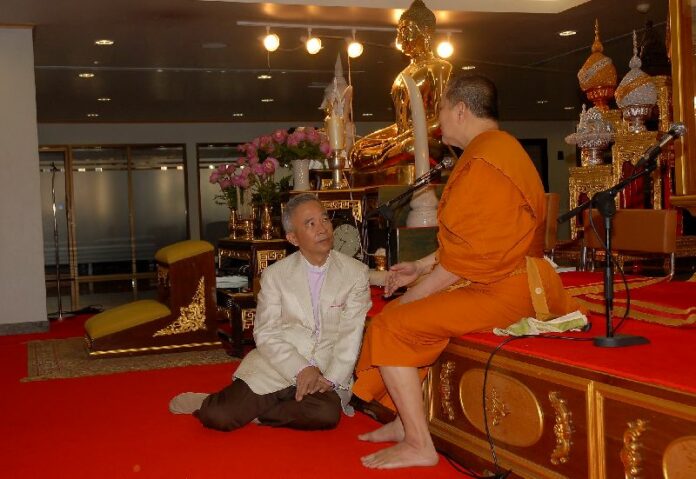 (11 February) Pheu Thai Party boss said he has criticised Labour Minister Chalerm Yoobamrung for his disparaging remarks about a coalition party leader.
Mr. Chalerm, who also chairs the Centre for Maintaining Peace and Order (CMPO), lashed out yesterday at Mr. Suwat Liptapanlop, top adviser of Chart Pattana Party, after Mr. Suwat expressed his willingness to mediate a negotiation between the administration and anti-government protesters.
"If Mr. Suwat wants to be a Prime Minister himself, no one has anything against that," Mr. Chalerm charged, "But since he is still in the coalition, he has to defend the government".
The CMPO director also accused Mr. Suwat of stabbing the administration in the back by supporting a newspaper which launches daily attacks on Prime Minister Yingluck Shinawatra and her cabinet members.
"If Mr. Suwat believes this newspaper he′s supporting, he should just quit [the coalition] once and for all," Mr. Chalerm said, without naming the newspaper.
The incident has stirred up speculation that the coalition government of Ms. Yingluck might be experiencing a rift amid the ongoing protests.
Responding to incident, Pheu Thai leader Charupong Ruengsuwan said in a press conference today that the 4-party coalition is strong as ever, in spite of Mr. Chalerm′s remarks.
"We still hold our hands together. Nothing changes," Mr. Charupong told reporters, adding that he speaks "daily" to coalition leaders such as Mr. Suwat and Mr. Banharn Silpa-archa, top adviser of Chart Thai Pattana Party.
He also stated that Pheu Thai Party leadership has already lectured Mr. Chalerm on the consequences of his public insults toward the party′s allies.
"Mr. Chalerm′s words risk turning friends into enemies," Mr. Charupong said dryly, "At the moment, Pheu Thai prefers to have friends".
According to a source inside Pheu Thai Party, Mr. Suwat was greatly offended by Mr. Chalerm′s remarks, causing high-ranking Pheu Thai figures such as Mr. Somchai Wongsawat and Ms. Yaowapa Wongsawat to personally apologise to Chart Pattana leader.
"We fear it could have an effect over our cooperation in the future," the source said.
For comments, or corrections to this article please contact: [email protected]
You can also find Khaosod English on Twitter and Facebook
http://twitter.com/KhaosodEnglish
http://www.facebook.com/KhaosodEnglish