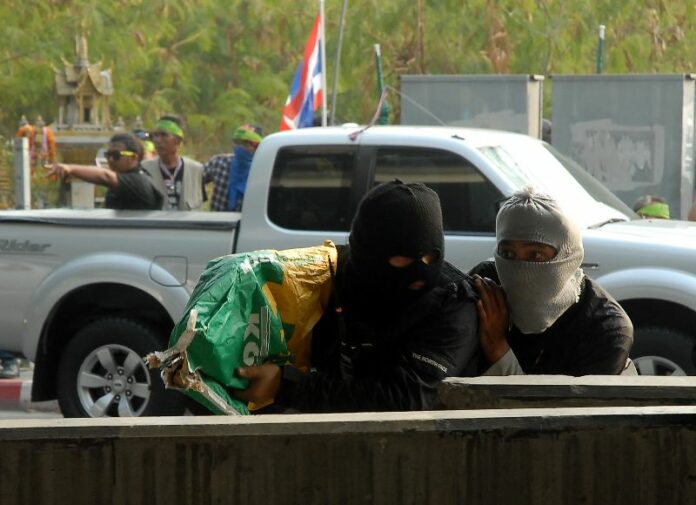 (11 February) Cambodian minister of defence has voiced his concern over rumours that Cambodian mercenaries are behind political violence in Thailand, an official said.
The rumours were primarily circulated by anti-government protest leaders, claiming that Thai authorities have hired Cambodian gunmen to launch attacks on protest rally sites in recent months.
A commander in the Royal Thai Navy also echoed the rumour by telling the press last month that "10 truckloads" of Cambodian militants have infiltrated the Thai borders to cause chaos in the kingdom.
But Col. Paphathip Sawangsaeng, spokesperson of the Ministry of Defence, said Gen. Tea Banh, the Cambodian Minister of National Defence, has personally told the Thai delegates at 2014 Singapore Airshow that the rumour is baseless.
Among the Thai delegates who attended the event was Gen. Yutthasak Sasiprapa the Thai Defence Minister.
According to Col Paphathip, Gen. Bahn informed Gen. Yutthasak that he felt uncomfortable with the issue, as he fears that it may affect the good relationship between Thailand and Cambodia.
The Cambodian military has insisted that they are not aware of any Cambodian military officer crossing the border to join the protest, Gen. Bahn reportedly told his Thai counterpart.
Gen. Bahn stressed that any Cambodian officer found guilty of intruding into the Thai political situation would face maximum penalty, in order to show the Cambodian government′s appreciation for the relationship between the two nations, Col. Paphathip said.
The spokesman added that police officers, who have closely observed the protests and set up checkpoints around protest sites, reported no finding of any Cambodian militants.
"Based on these facts, we have not seen any intervention from the Cambodian military in Thai politics", Col Paphathip added.
For comments, or corrections to this article please contact: [email protected]
You can also find Khaosod English on Twitter and Facebook
http://twitter.com/KhaosodEnglish
http://www.facebook.com/KhaosodEnglish