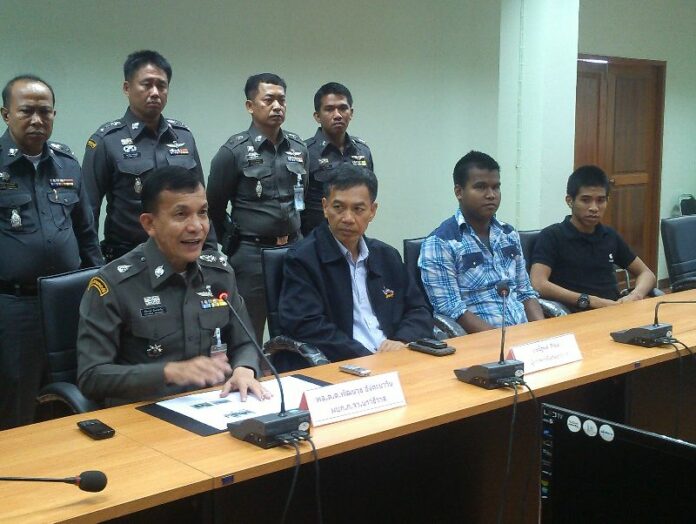 (3 March) Two Army rangers have confessed to murdering three children and wounding their family members in the restive South.
The incident took place at a residence in Bajoh district of Narathiwat province on the night of 3 February. The assailants apparently broke into the residence and opened fire, killing the boys. Two adult relatives, a man and a woman, were also injured by the gunfire.
Various groups condemned the attack, and a number of Islamic separatist activists blamed the Thai authorities for engineering the murders.
Thousands of civilians and members of security forces have died in the prolonged violence in the southern border provinces, which are predominantly populated by Muslim-Malay ethnics.
Following an investigation, the police have arrested Ranger Maming Binmama, 21, and Ranger Sakuera Jesae, 25, in connection with the murders. Both men belong to the 46th Ranger Regiment.
In a police press conference, Pol.Maj.Gen. Pattanawut Angkanawin said the two suspects and another collaborator murdered the victims out of "personal reasons". He insisted that the suspects did not carry out the attacks as a concerted effort to intimidate the local population.
According to Pol.Maj.Gen. Pattanawut, the suspects attacked the victim family out of their desire to exact vengeance for a blood feud between their families.
The suspects reportedly used an AK-47 rifle, an M-16 rifle, and a handgun in the attack.
The third suspect is still on the run, said Pol.Maj.Gen. Pattanawut. He refused to identify the person by the name, citing concerns over the ongoing investigation.
"We will bring the person to face justice as soon as possible," Pol.Maj.Gen. Pattanawut insisted.
Mr. Maming told reporters his actions are solely personal issues and unrelated to the military. He said he acquired the weapons used in the murders from his friends.
Although Mr. Maming and Mr. Sakuera have already disposed the rifles into a canal, the third suspect still possessed the handgun, Mr. Maming added.