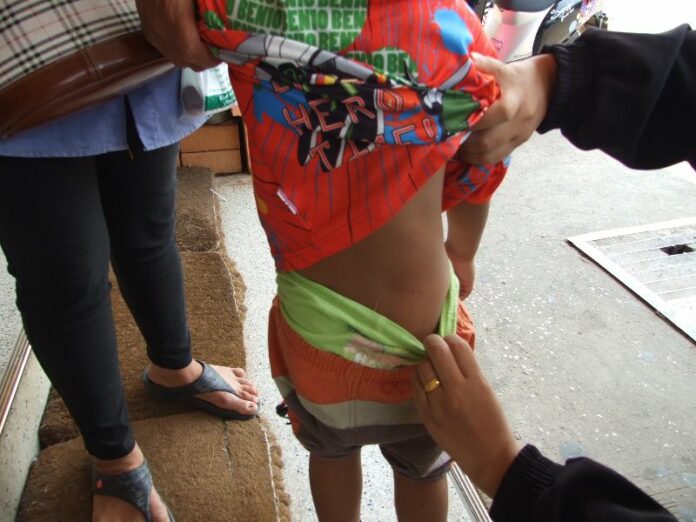 (7 March) A 4-years old boy has been allegedly electric-shocked by an employee of a state-owned child-care centre in Udon Thani province.
He was brought to a police station in the province yesterday by his mother, where she showed the wounds on his body to the police and filed charge against the employee.
The 21-years old mother told police she works as a staff in a local shopping mall and her husband worked in various hiring jobs. She said she would drop her son to the child-care center, which also serves as a semi-kindergarten, before she goes off to work each day.
On 4 March, the mother told police, she noticed that her son repeatedly touched his bottoms and cried in pain. When she inspected, she reportedly found six small wounds – pairs of burned dots 2 centimeters apart – around his bottoms and hip.
According to the woman, her son said he was electric-shocked with a hand-held stun gun by one of the teaching staff in the centre.
She said she promptly contacted the centre, which is operated by Chiang Pin Subdistrict Administrative Organization, whose staff admitted to her that a teacher named Mr. Thammanoon Thumpon indeed injured the boy "as a prank" as he took a nap with other children.
"They said it was not a big deal, so I decided to press charge with the police," the woman said.
Medical examination at Udon Thani Hospital indicated that the electric-shock caused burned wounds and fever to the boy, police said.
Ms. Naruemon In-Thon, director of Chiang Pin SAO's education department, said she has talked to Mr. Thammanoon and he has admitted to using the stun gun on the boy, but she added that Mr. Thammanoon claimed he did not intend to cause any injury.
According to Ms. Naruemon, the teacher merely pulled out the device to threaten the children, but the kids later "pushed at each other" and caused the boy to come into contact with the electric device. She added that the teacher will be subject to disciplinary action by a special investigation committee set up by the SAO. She also insisted that the SAO will foot all medical fees related to the incident.
Mr. Thammanoon told our correspondent he carried the stun gun for self-defence purpose. He repeated his testimony, insisting that the boy accidentally fell onto the stun gun.
He also claimed that the boy's mother only filed charge to the police after she and the staff failed to settle on the amount of medical bill and compensation money.
The police said they have summoned Mr. Thammanoon to provide formal testimony to the police. The investigation is ongoing.
Correction: The original version of this article identified the device allegedly used by the teacher as a 'hand Taser', which led to some misunderstanding. The device is in fact a hand-held stun gun. We regret the confusion this error may have caused.