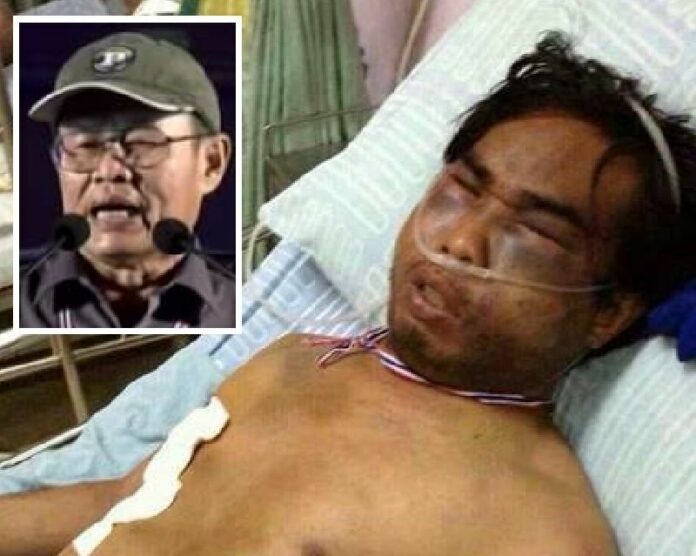 (7 March) The court has approved arrest warrant on a core leader of the anti-government movement for his alleged attempt to torture and murder a pro-government supporter.
The move came after a security guard of an autoparts company named Mr. Yuem Nilla was found with his feet and hands bound together in Bang Pakong River.
Mr. Yuem later said he was detained and tortured by a group of anti-government protest "guards" in Lumpini Park after they searched him and uncovered a membership card of the United Front of Democracy Against Dictatorship (UDD).
According to Mr. Yuem, after several days of detention, the guards tied his feet and hands, and dumped him to die in Bang Pakong River in Chachoengsao province, just east of Bangkok, but a group of locals narrowly saved him from drowning.
Mr. Yuem identified Mr. Issara Somchai, a core leader of the People's Committee for Absolute Democracy With the King As Head of State (PCAD), as the man who ordered his torture and his subsequent execution.
Today, Chachoengsao Provincial Court has approved arrest warrants of Mr. Issara and 5 other "guards" under his command on 5 charges, including attempted premeditated murder, unlawful detention leading to grievous harms, and physical assaults.
Pol.Col. Kiattisak Srathong-On, a commander of police in Chachoengsao province, said the officers are working to identify Mr. Issara's accomplices by CCTV footage and other evidences to prosecute the suspects.
Meanwhile, Pol.Col. Sirikul Srisanga, spokeswoman of the Police Hospital, where Mr. Yuem is currently admitted, told our correspondent that the victim still needs to breath through tube in his lung, as the organ has been damaged in the alleged torture.
"He is occasionally exhausted, and he is hurt when he moves himself on the bed," Pol.Col. Sirikul said.
Related Story: Redshirt 'Beaten And Left To Die' By PCAD Guards