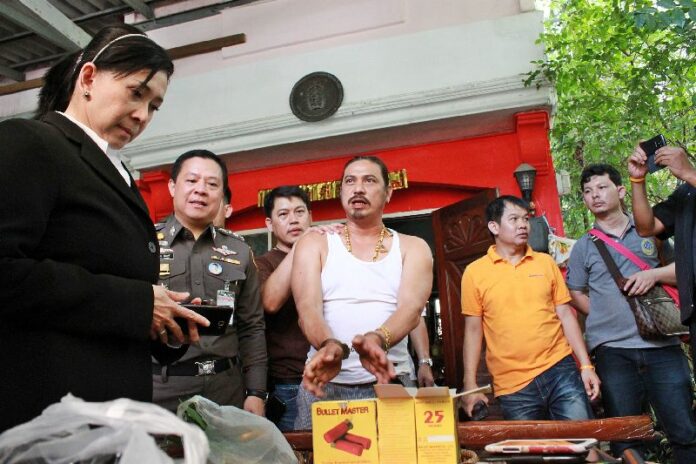 (14 March) Police in Pathum Thani province have arrested a self-styled necromancer for the alleged sexual assaults on his female followers.
Mr. Thanawan Assawapholsuwan, 43, was arrested during a police raid on his residence in Thanyaburi district, which was billed as a holy shrine of a "Gold-Faced God". Pamphlets found inside the temple claimed that Mr. Thanawan is gifted with various supernatural powers, such as curing diseases, binding loves, and procuring riches.
The police raid followed complaints by at least 6 women who informed the authorities that they had been sexually assaulted by Mr. Thanawan, who is known by his faithful followers as "The Karawek Master", police said.
The raid was observed by Ms. Paveena Hongsakul, director of Paveena Hongsakul Foundation for Children and Women, which first received complaints from the alleged victims and forwarded their testimonies to the police.
One of the women reportedly told the police that she approached Mr. Thanawan to seek miracle cure for her illness and a love charm to mend her relationship with her husband.
When she arrived at the temple, she said, Mr. Thanawan arranged a private meeting with her in which he allegedly told her to buy some gold for the ceremony. She was also allegedly instructed to give him some money and coerced into having sex with him.
After the sexual encounter, the woman said, she was blackmailed by Mr. Thanawan who demanded more money otherwise the photos of their sexual intercourse would be published on the internet.
Other women said they had been likewise sexually assaulted by Mr. Thanawan, and he had instructed them not to speak to the authorities, with a threat of black magic curses if they did.
The police eventually applied for arrest warrants for Mr. Thanawan on charges of sexual assaults. 5 of the exorcist's accomplices are also under arrest for suspected frauds.
The women said they suspect that there might be more victims of Mr. Thanawan's alleged crimes, and the police are urging other possible victims to come forward and press charges.
For comments, or corrections to this article please contact: [email protected]
You can also find Khaosod English on Twitter and Facebook
http://twitter.com/KhaosodEnglish
http://www.facebook.com/KhaosodEnglis