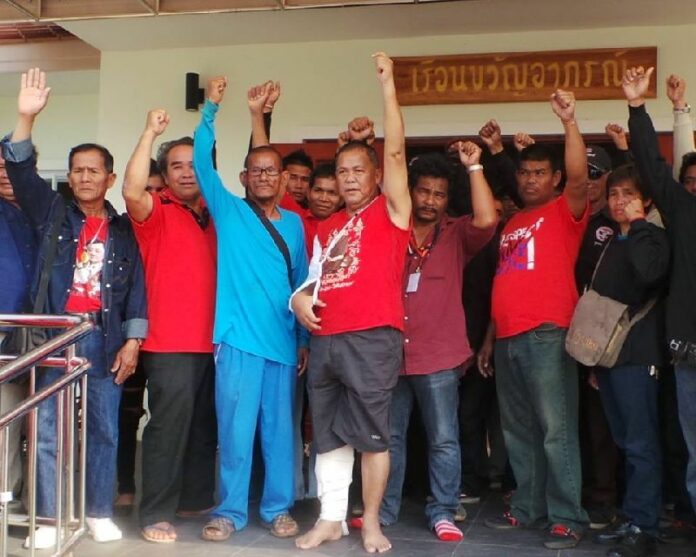 (14 March) Local Redshirts leader Kwanchai Praipana is back at his home in Udon Thani province for the first time since he was severely wounded in an assassination attempt.
Mr. Kwanchai of the United Front of Democracy Against Dictatorship (UDD) was admitted to hospital in late January after a group of assailants shot him in his residence. He was said to have recovered steadily ever since, and has returned to his residence today at around 09.00 amid heavy security escort.
Speaking at his home in Mueang district, Mr. Kwanchai said he underwent the final surgery on 7 March and has been transported back to Udon Thani on 11 March. He added that the doctors have mended his leg's nerval system and inserted a metal supporter into his shoulder.
Nevertheless, he still needs to see the doctors for stitches removal and physical therapy later, Mr. Kwanchai said.
Mr. Kwanchai estimated that he has recovered by "70-80%", as he can now use his legs and arms normally, but he still needs companions to support his balance whenever he needs to walk. The Redshirts leader said he has been informed by the doctors that they would remove the metal supporter inside his shoulder 6 months from now.
A group of security guards, handpicked by Mr. Kwanchai, were seen patrolling the house.
Mr. Kwanchai also stated that he would not get involved in any politcal activity in coming weeks, as his wife is running for the Senator seat in the province.
The police have arrested a group of Royal Thai Army officers in connection to his assassination attempt. They have been released after an interrogation session, and vowed to contest the charges in courts.
For comments, or corrections to this article please contact: [email protected]
You can also find Khaosod English on Twitter and Facebook
http://twitter.com/KhaosodEnglish
http://www.facebook.com/KhaosodEnglis