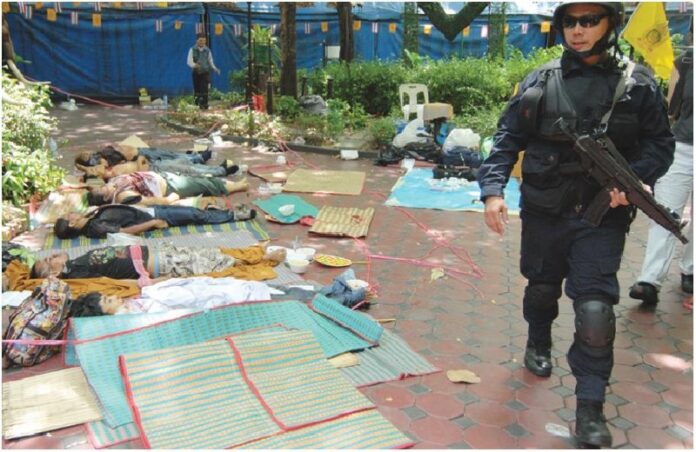 (14 March) Families of two civilians who were shot dead by the military during 2010 unrest have filed murder lawsuits against the former government leaders.
Mr. Abhisit Vejjajiva and Mr. Suthep Thaugsuban, the Prime Minister and Deputy Prime Minister at the time, respectively, are named in the lawsuit, which aims to prosecute the two Democrats on charge of co-instructing other individuals to commit premeditated murders.
The lawsuit specifically focused on the deaths of the two of six civilians who were shot as they took shelter inside Wat Pathumwanararm Temple in downtown Bangkok on 19 May 2010 – the day the military, acting under Mr. Abhisit's order, launched a final assault against the Redshirts' protesters who have been encamped in Bangkok's financial district for months.
According to court inquest last year, the soldiers who were stationed on the BTS track opposite the temple fired their weapons into the sanctuary and subsequently killed the six civilians, despite the government's designating the temple as a "safe zone". Several volunteer medics are among the dead.
Today, families of two of the slain civilians, Mr. Suwan Sriraksa and Mr. Attachai Chumchan, have appointed a lawyer to sue Mr. Abhisit and Mr. Suthep on their behalf.
It is now up to the court whether to accept the lawsuit, said the lawyer, Mr. Chokechai Angkaew, during a press conference at the Ratchapisek Criminal Court in Bangkok.
Families of 4 other victims who had been slain in Wat Pathumwanararm Temple are also considering their own lawsuits, but they are not ready to file the cases at the time, Mr. Chokechai told reporters.
He added, "The victims' families have plenty of time to consider their lawsuit, because murder charges carry a limitation of 20 years".
Mr. Abhisit and Mr. Suthep are also facing separate murder charges filed by the public prosecutors for their roles in 2010 crackdown, which claimed the lives of more than 90 people, most of them civilians.
The former Prime Minister has acknowledged the charge and expressed his willingness to contest it in trials, while Mr. Suthep has repeatedly postponed the meeting with public prosecutors to acknowledge his charges, citing his need to lead anti-government protesters in their quest to oust Prime Minister Yingluck Shinawatra.
Related Story: Court Inquest Dispels Oft-Recited Myths Of 2010 Crackdown
For comments, or corrections to this article please contact: [email protected]
You can also find Khaosod English on Twitter and Facebook
http://twitter.com/KhaosodEnglish
http://www.facebook.com/KhaosodEnglis