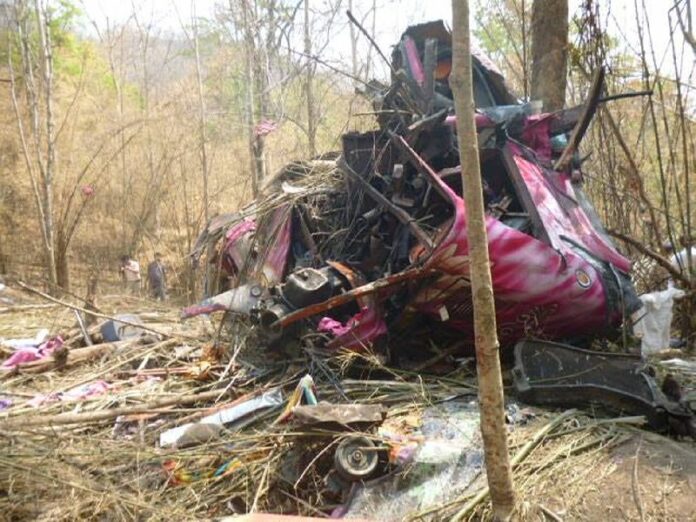 (26 March) Bus companies have been asked to refrain from operating double-decker vehicles on hilly roads, following a deadly accident involving such vehicle in Tak province on Monday.
The accident, which killed more than 30 passengers, occurred when the bus driver lost control of the vehicle as it descended down a slope and slammed into roadside barrier before plunging down into the gorge below.
It was the latest addition to the series of frequent deadly road accidents in Thailand; less than a month earlier, a double-decker bus also crashed in Prachinburi province and killed 15 victims, most of them young schoolchildren on a field trip.
In the wake of the Monday accident, Mr. Asdsathai Rattanadilok na Phuket, Chief of Land Transport Department, said during a conference with transport authorities across the country that double-decker buses should no longer be allowed to travel on dangerous hilly roads or steep slopes.
According to Mr. Asdsathai, the tall vehicles are not appropriate for curves and slopes as they can easily lose their balance, therefore double-decker buses should only be reserved for normal roads, and their traveling speed should be restricted.
20,000 of the registered public or chartered buses are double-decker, Mr. Asdsathai said, adding that the ban will be initially enforced by individual companies.
"In the first stage, we will try asking for cooperation from operators for 2-3 months," Mr. Asdsathai explained, "If the situation does not improve and accidents still happen, the Department will consider enacting a direct notice".
One possibility to enforce the ban is to amend the existing traffic legislation to reflect the new regulation, the director said.
Meanwhile, Transport Minister Chatchart Sittipan, told reporters during his visit to the accident site in Tak province that experts from the Department of Land Transport are investigating the issue, particularly to determine whether the bus carried more passengers than the laws permit.
He named three possible causes for the accident: firstly, the driver might have been inexperienced; secondly, the vehicle might have poor maintenance; and thirdly, the road might have been poorly designed.
Nevertheless, in the meantime the Ministry of Transport will install more lighting equipment and warning signs around the slope to avoid further incident, Mr. Chatchart said.