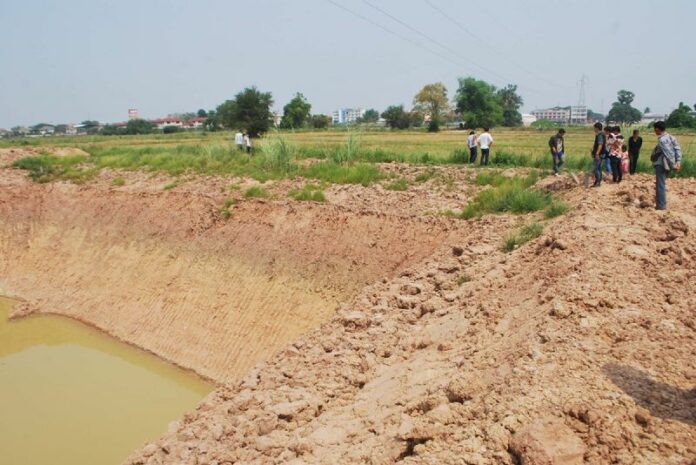 (9 April) A woman in Pitsanulok province has urged the police to re-investigate her son's death, following a tip-off from a "ghost".
The 13-year old Supphachai Thammanupat was found dead in a pond near Bua See Ngoen village in Mueang district on 3 April. The police ruled that he died of accidental drowning.
However, according to his mother, Ms. Kallaya Katenawa, 32, during a "supernatural" incident on 6 April, a night before his cremation ceremony, she was led to believe that her son did not die peacefully.
Ms. Kallaya claimed that the coffin of her son suddenly trembled, and the funeral portrait of her son and flower arrangements in front of the coffin fell down for no apparent reason.
Later, Ms. Kallaya said, she was told by witnesses to the incident in which her son died, that a group of teenagers assaulted Supphachai before throwing him into the pond. The witnesses also claimed that Supphachai was still alive when he was thrown into the water.
The witnesses were later threatened by the assailants not to tell anyone, otherwise they would be harmed as well, Ms. Kallaya said.
"I believe the ghost of my son wants to seek justice, to find the perpetrator who murdered him," Ms. Kallaya told reporters yesterday, adding that she decided to check Supphachai's mobile phone and found messages dated 1 and 2 April which contained threatening remarks from unidentified individuals.
She also insisted that Supphachai was an able swimmer who regularly visited the pond, therefore removing any possibility that he would have drowned by accident.
Yesterday the police contacted one of the witnesses, who is an underage individual, and asked him to show the officers where Supphachai was reportedly murdered. The witness said Supphachai was swimming in the pond when the group of teenagers approached him and they exchanged rude remarks, before Supphachai got out of the pond and was beaten by the teenagers.
Pol.Col. Boonyarit Lohsuwan, commander of Mueang Police Station, said the officers are urgently investigating the matter and waiting for further medical evidence from doctors.
He refused to give additional details, citing the ongoing criminal investigation.
For comments, or corrections to this article please contact: [email protected]
You can also find Khaosod English on Twitter and Facebook
http://twitter.com/KhaosodEnglish
http://www.facebook.com/KhaosodEnglish