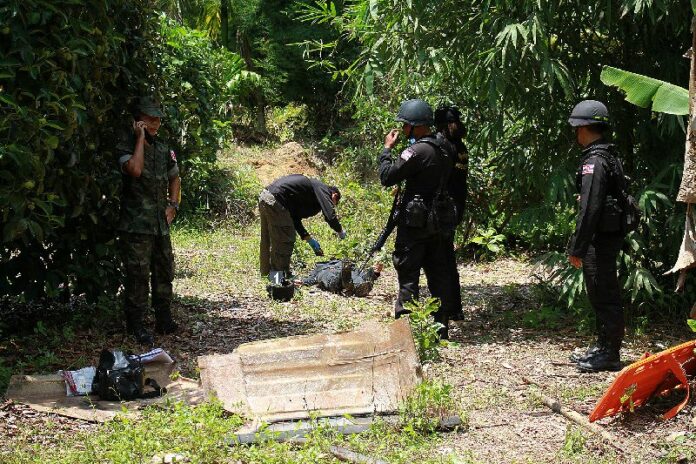 TRAT — The military says a volunteer Marine was shot dead by an armed militant during a raid on a Redshirt hideout in Trat province today.
The raid was reportedly conducted by more than 100 Marines under the Chantaburi-Trat Border Defence Command (CTBDC) on an orchard in Khao Saming district this morning.
The police received reports about a shooting at 10 a.m., and found the body of Wutthinan Sriprasit, 25, at the scene of the crime. Mr. Wutthinan, a volunteer of the CTBDC's marine ranger force, had two gunshot wounds to the head.
Rear Admiral Noppon Wuttiranarit, who led the raid, told police that his task force surrounded the area after they received reports that three armed Redshirt militants were hiding in a house near the orchard.
Two suspects were arrested by the marines, while the other fled into the orchard, RADM Noppon said. The marines then reportedly divided themselves into different groups to comb the area and look for the suspect. According to RADM Noppon, Mr. Wutthinan was patrolling alone in the orchard when the suspect, who was apparently hiding in a bush, shot him dead before running away.
RADM Noppon said he believed the suspects were involved in the grenade and gunfire attacks on anti-government protesters in Trat province on 22 February. The attack killed one five-year-old girl and injured over 40 people. The Rear Admiral said he could not give any more details due to the sensitivity of the case and ongoing operation to locate the remaining suspect.
Police said the orchard belongs to a 40-year-old local farmer named Narong Krachangsaeng. It is not clear whether he is one of the suspects.