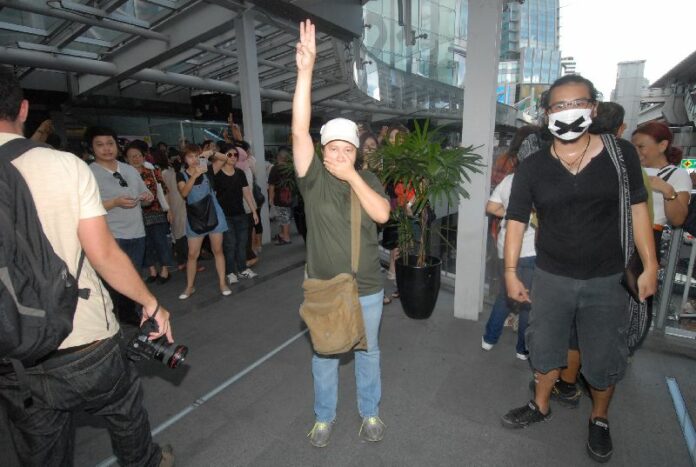 BANGKOK — Police say the woman abducted by undercover agents at the anti-coup protest in Bangkok on Sunday has been handed over to the military.
However, the police have no details about her current whereabouts or whether the military has pressed any charges against her, said Pol.Col. Chaiya Kongsap, commander of the Lumpini Police Station in Bangkok.
"We have no information whatsoever," Pol.Col. Chaiya told Khaosod English today. "The soldiers were already waiting for her when [the police] took her to the police station."
He explained that police were required to transfer the suspect to the military in accordance with martial law, which gives the military superior power over civilian authorities and laws.
The woman, who has since been identified as 50-year-old Sunanta Puangsiri, was seen flashing the "three-finger salute" near a larger anti-coup rally at Terminal 21 shopping mall in central Bangkok before she was forcefully shoved into a taxi by undercover police officers. The three-finger salute, inspired by popular sci-fi triology "The Hunger Games," has become a symbol of coup resistance.
Intially, police denied any involvement in the incident. Speaking in a live interview with Spring News TV yesterday morning, deputy commander of the Royal Thai Police Somyot Pumphanmuang suggested she was possibly taken away by her own husband.
"It could have been her husband who didn't want her to join the protest, so he took her home," Pol.Gen. Somyot said, adding that the police would never arrest anyone in such manner.
"I already told you that the military and police do not perform our duties with violence," he explained.
Hours later Lumpini Police confirmed that it was their plainclothed officers that detained Ms. Sunanta. According to the officers, she was not registered in the police database because she was immediately handed over to the military after arriving at the police station.
The police did not say why the lone protester was arrested.