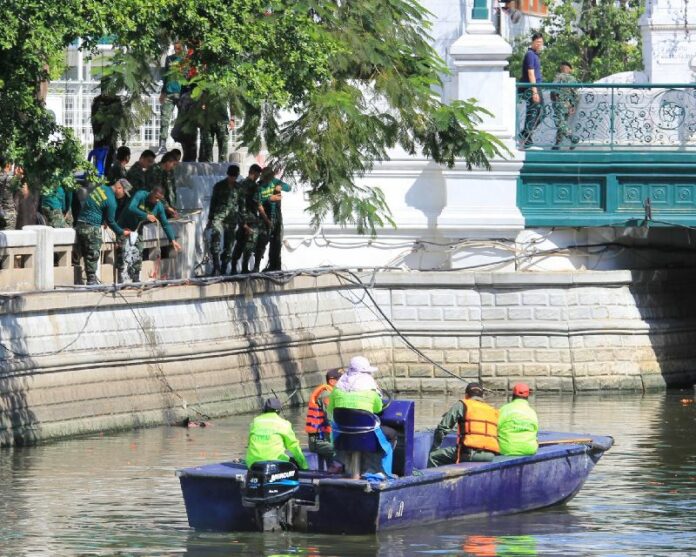 BANGKOK — Soldiers say they uncovered a dead body and numerous weapons in the canal next to the Government House in Bangkok during a search for weapons discarded by former anti-government protesters yesterday.
The body, wrapped in canvas, was spotted by a group of army divers in Padung Krung Kasem canal near Ratchadamnoen Avenue, where supporters of the People's Committee for Absolute Democracy With the King As Head of State (PCAD) were organising rallies prior to the 22 May coup in an effort to oust the government of former Prime Minister Yingluck Shinawatra.
Pol.Maj.Gen. Itthipol Piriyapinyo, deputy commander of the Metropolitan Police, said an initial investigation reveals the deceased was male and has been dead for two months.
He stressed that it is still too early to say whether his death is related to the PCAD protests.
Police say they found a Bank for Agriculture and Agricultural Cooperatives staff ID card with the body, which they later learned belongs to a man named Charnsiri Chaonatai who is reported to still be alive.
Apart from the body, the six-hour search turned up numerous weapons, including two homemade explosive devices, three "ping pong bombs," 19 detonators, one smoke grenade, one flashbang, ammunition for HK and M16 rifles, and more than 50 bullet cases for .38 and 9 mm. handguns.
Knives and barbed wire were also found in the canal.
An officer said police suspect the PCAD guards methodically collected bullet cases whenever they fired their weapons, either during training or in confrontation with the shadowy militants who routinely attacked their campsites, and dumped the cases into the canal to hide the evidence.
The search was conducted yesterday morning after local residents said they were concerned about the safety of the canal, fearing it may have been used as a dumping grounds for abandoned weapons after the PCAD was forced to leave their rally site in the wake of the coup, explained Pol.Maj. Suwat Tantimart, commander of Nangloeng Police Station.
A combined force of 1st Region Army soldiers, police, and staff from the Bangkok Metropolitan Administration oversaw the search.