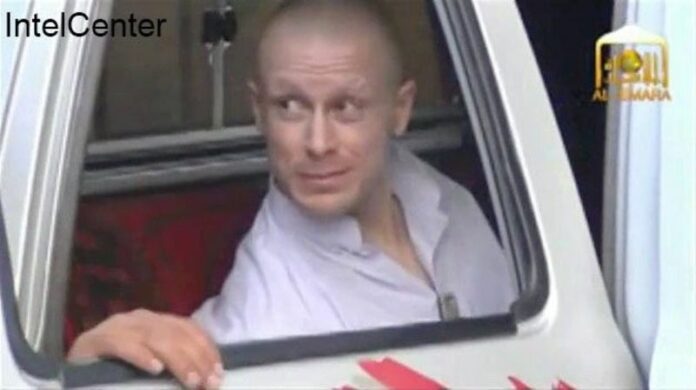 KABUL/WASHINGTON (DPA) — The Afghan Taliban released a video Wednesday showing US soldier Bowe Bergdahl's release, as the controversy over his capture five years ago and the effort to free him led his hometown to cancel a welcome ceremony.
Bergdahl was released Saturday in a swap for five senior Taliban members held in the US military prison at Guantanamo Bay, Cuba.
"We have no reason to doubt the video's authenticity, but we are reviewing it," Pentagon press secretary John Kirby said. "Regardless, we know the transfer was peaceful and successful, and our focus remains on getting Sergeant Bergdahl the care he needs."
Bergdahl is being treated at a US military hospital in Germany. There has been no word on when he will arrive in the US.
Since his release, opposition politicians in Washington have criticized the swap of the five Taliban figures. Many legislators – even in President Barack's Obama's own left-leaning Democratic Party – are angry over the White House's failure to notify them in advance.
As the debate raged on Capitol Hill, Bergdahl's home town of Hailey, Idaho, decided not to hold a welcome ceremony when he returns.
Organizers said the decision was based on public safety concerns because the town of about 8,000 people lacked the infrastructure to handle the large number of people – both supporters of the soldier and detractors – likely to turn out.
In the video, Bergdahl sits in a pick-up truck, wearing traditional Afghan clothes and with a shaved head.
Taliban fighters stand around him holding Kalashnikov rifles, with Taliban fighters visible on surrounding hillsides.
"This is Alisher district in Khost province. We have brought the American soldier here to hand him over," the video narration says.
Two helicopters approach, one lands, and three apparently unarmed Americans in civilian clothes emerge. The Taliban fighters holding a white flag take Bergdahl to them, and they shake hands.
The Americans search Bergdahl for arms and explosives, and take him into the helicopter.
"Do not come back to Afghanistan," the video subtitles say.
The rest of the 17-minute video shows Taliban prisoners released in the exchange being welcomed by their colleagues in a desert, apparently in Qatar, whose government helped broker the swap.
The Bergdahl swap came as the US moves toward an end to its combat role in the Afghan war by December.
US Senator Lindsey Graham, a South Carolina Republican, said Wednesday that he would push for Obama to be impeached and removed from office if more Guantanamo prisoners were released without notification to Congress. A recent law requires advance notice, but Obama signaled that he considered the measure a violation of his constitutional powers.
"The safe return of an American soldier should not be used to score political points," Harry Reid, leader of the Senate's Democratic majority, said on the floor of the upper chamber.
"No member of the armed forces should be left behind, and President Obama saw to that."
Members of Bergdahl's unit have accused him of deserting their observation post, though the Defence Department said it has not decided whether his actions constitute a punishable violation.
"Let's say, for the sake of argument, that Sergeant Bergdahl did violate his sworn oath. Who do we want to mete out justice to an American soldier? The Taliban?" Reid asked.
"I will choose the justice system of the United States Army – American justice – every time. … In the United States of America, we rescue our soldiers first and ask questions later."
State Department spokeswoman Marie Harf said that the five freed Taliban had been deemed unlikely to be prosecuted by a US military court prior to the swap.
"It is quite likely that eventually, in line with our commitment to close Guantanamo Bay … these guys may have eventually been transferred somewhere anyways," she said. "I think many of us would make the argument – I would make it – that we should get something for them."