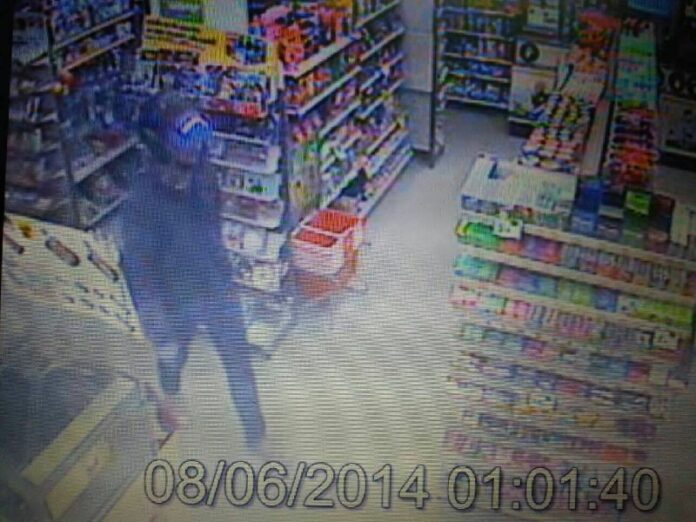 BANGKOK — Police are searching for a suspect who reportedly robbed a convenience store only yards away from a unit of Army Rangers during curfew hours early yesterday morning.
The incident took place at around 2:45 am at a 7-11 store located in front of the headquarters of the Royal Thai Army's Long Range Rangers Patrol (LRRP) on Chaeng Wattana Road.
Warapon Noochapong, 23, deputy manager of the store, told police that she was checking stocks of goods in the store, which was closed at the time in accordance with the military's midnight – 4 am curfew, when a man wearing a motorcycle helmet knocked on the door and gestured that he would like to buy something.
After she let him in, the man picked up a bottle of water and walked to the cashier, Ms. Warapon said. However, instead of paying for the item, he reportedly took out a knife and "politely" instructed Ms. Warapon to give him the money.
Ms. Warapon said she gave him 1,200 baht in cash. The man then sped away on a Yamaha Fino motorcycle with no license plate, she said.
Police say the suspect committed the crime while a group of Army Rangers were switching shifts.
"We believe the robber was aware of the guard shift, that's why he chose to commit the act in that moment" an unnamed police officer said.
Police say two other 7-11 stores in the district also reported robberies at around the same time, leading officers to believe they were committed by the same suspect.
CCTV footage in the area is being studied to identify and locate the suspect, police added.
The military junta, which replaced Thailand's civilian government with the National Council for Peace and Order (NCPO) on 22 May, placed a nationwide curfew immediately after seizing power. In recent days the curfew has been lifted in major tourist destinations, such as Phuket, Pattaya, and Haat Yai.
Last week, a NCPO spokesperson said that the military junta has no immediate plans to ease the curfew in Bangkok, which was the center of the six-month political crisis that prompted the military coup d'etat.