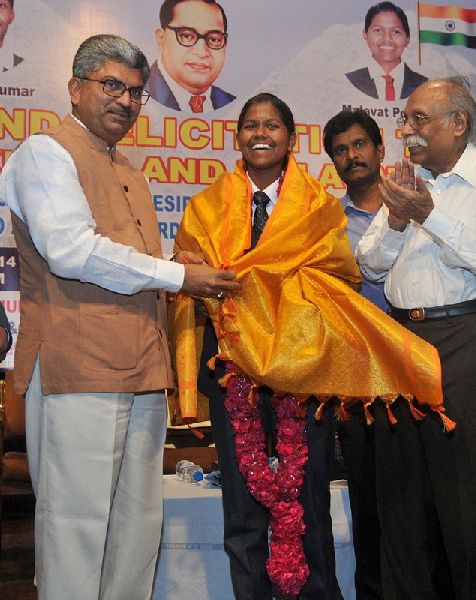 By Doreen Fiedler
NEW DELHI (DPA) — Lawmakers in the Indian capital New Delhi are standing in line just to shake the hand of the low-caste girl who became the youngest person to reach the summit of Mount Everest.
She squeezes so hard that many a politician has to wince.
"I'm strong," the 13-year-old says with self-confidence.
"Mount Everest is not easy, really, it is the toughest climbing, and very dangerous. I saw crevasses, many metres deep," she says.
Then her smile fades, and she grows pensive.
"I saw dead bodies, six dead bodies, and I felt some fear."
What gave her strength was to recite the 10 commandments of the aid organisation Swaeroes. Among them: "I should never fear the unknown," and "I am not inferior to anyone."
The latter saying gains relevance when considering that Poorna belongs to the Lambada tribe, one of the Adivasi, or indigenous people, who are often marginalised in India's social system.
"We don't have money, we work as labourers in the fields, and many of us cannot read or write," Poorna told dpa.
Her village of Pakala is located about 200 kilometres north of the information technology metropolis Hyderabad. No roads lead to the village, much less any internet connection.
Thanks to Swaeroes, Poorna attends a boarding school, where besides her native Telugu she also studies Hindi and English.
She loves track and field, volleyball, and the game kabaddi. Nine months ago, she signed up the first time courses were offered in mountaineering training.
About 150 youngsters signed up, starting out with climbing boulders and later climbing up the walls of an old fortress.
Her instructor Parmesh Kumar was impressed by her determination.
"While the others were satisfied once they had completed a route, Poorna immediately got back in line."
Poorna admits that "I had fear, and didn't know how to climb the rock. Then I climbed to the top, and really, the fear was gone."
Then she learned how to use the ice axe, climbing ropes and crampons for walking on ice, which she had never seen before. Their training took the group to Darjeeling and Ladakh, on India's side of the Himalayas.
Her determination and enthusiasm would get her through the challenges of the world's highest peak.
"When we reached the advanced base camp at 6,400 metres, she had altitude sickness," said B Shekher Babu, a climber who accompanied her.
"We sent her back to the lower base camp, but three days later she was back."
She even made it to the 8,848-metre summit ahead of a 16-year-old boy, Anand, the other youngster in the Swaeroes group.
"She was simply fitter," Babu said.
Upon her return, Poorna met many other children from the lower castes and tribes. For hours, she hugged the well-wishers, shook hands and smiled into the cameras, her golden nose pin glittering from the flashbulbs and her long dark ponytail swinging to and fro.
"I want all children to be as strong and courageous and to grasp the opportunities that are presented them," she said.
Poorna said she plans to stick with mountain climbing. She would love to climb Mount Everest again, following a different route next time.
Her mid-term plans include wanting to join the police force.
Among her admirers is Archie Bandyopadhyay, of the National Campaign on Dalit Human Rights.
"She climbed the highest peak whereas most of her age community didn't even step out of their village," he said.