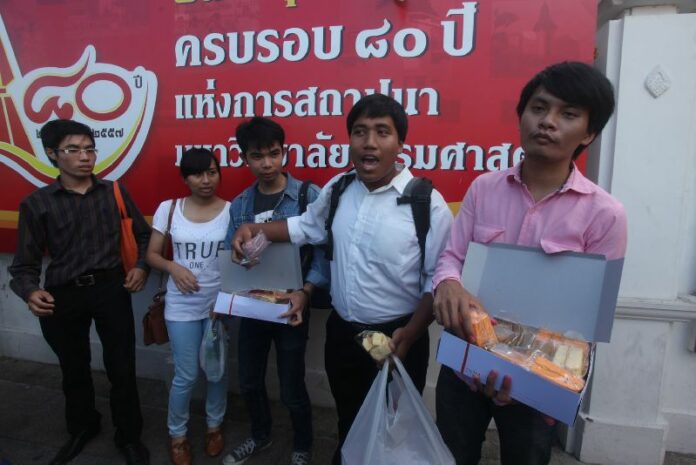 BANGKOK — More than 5,000 soldiers and police officers were deployed in central Bangkok today to thwart protesters' attempts to organise an anti-coup rally.
Since anti-coup activists did not publicly designate a location for today's protests in advance, security forces resorted to sealing off all potential venues that could host a demonstration, including Benchasiri Park on Sukhumvit Road, Chatuchak Park on Phahonyothin Road, and Sanam Luang ("Royal Field") in the old quarters of Bangkok.
Soldiers were also stationed at a number of BTS stations and on skytrains to look for potential demonstrators, while police officers patrolled landmarks such as Ratchaprasong Intersection and Victory Monument where previous weekly anti-coup demonstrations have been held.
Police also dispatched at least ten plain-clothed officers to pose as customers at a McDonald's on Ratchaprasong Intersection to prevent any political demonstrations from taking place; the American fast food chain, along with "three finger salute" from the Hunger Games trilogy, has become an unlikely symbol of defiance against the military junta.
Since seizing power in a coup d'etat on 22 May, the military's National Council of Peace and Order (NCPO) has outlawed public demonstrations and threatened to send transgressors to face trial in military courts. The NCPO has already detained scores of anti-coup protesters and activists thought to be critical of the military takeover. In a nationally-televised address on Friday, coup-leader Gen. Prayuth Chan-ocha warned Thais against flashing the "three-finger salute" in public.
Despite the extensive presence of security forces today, several small protests broke out across the city. A group of protesters flashed the three-finger salute amid a scrum of reporters and onlookers at Siam Paragon shopping mall before police officers quickly closed in on the group.
Two were arrested at the scene, while five more were detained by security forces as they attempted to escape by skytrain and taxi.
This evening, a group of anti-coup activists staged a "sandwich picnic" outside Thammasat University's Tha Prachan campus to circumvent the ban on political demonstrations. Administrators of Thammasat University, the site of popular uprising against the military regime in 1970s, shut down the campus' entrances, presumably to prevent the protesters from entering the compound.
Pol.Gen. Somyot Pumphanmuang, deputy chief of the Royal Thai Police, said that today's operation relied heavily on undercover agents to mark, track down, and arrest potential protesters.
Uniformed police officers and soldiers only played a supporting role in the operation, Pol.Gen. Somyot said, adding that the security forces have tried their best to avoid violent confrontations with demonstrators as part of the military's effort to promote "national reconciliation."
"I want to tell the protesters that they should think of their country," said Pol.Gen. Somyot. "Please wait and see the actions of the NCPO's leaders, because [the NCPO] has not started working yet, but the protesters are already opposing them. This is not right. If the NCPO leaders fail to do what they promise, I might also join the protesters, too."
He added, "Right now [the protests] are causing damage to our country. They are causing chaos. They are creating a bad image for the foreigners."
Throughout the day many critics of the coup posted photos of themselves on social media showing the three-finger salute in solidarity with the activists.
"I beg you not to raise the three fingers," Gen. Prayuth said in his public address on Friday. "If you want to show it, you can, but can you show it inside your house? Don't show it outside."
For comments, or corrections to this article please contact:[email protected]
You can also find Khaosod English on Twitter and Facebook
http://twitter.com/KhaosodEnglish
http://www.facebook.com/KhaosodEnglish