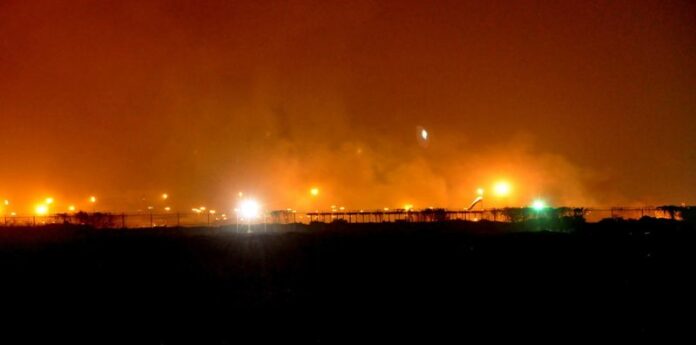 By Subel Bhandari
ISLAMABAD (DPA) — At least 28 people, including 10 suspected terrorists, were killed during a gun battle lasting several hours between Pakistani security forces and militants who stormed an airport in Karachi, officials said.
All international and domestic flights from the southern city's Jinnah Airport were suspended when one of the terminals was attacked by 10 assailants shortly after midnight on Sunday, said Major General Rizwan Akhtar, chief of the Rangers paramilitary force.
"We have cleared the airport … all terrorists are dead," Akhtar told reporters.
A civil aviation official, Shujaat Azeem, said flights would resume by midday (0700 GMT) on Monday.
Thirteen members of the security forces and five civilians were among the dead, said doctor Seemi Jamali at the city's Jinnah Medical Institute.
At least 23 people with bullet injuries were brought to the hospital, she said. Five of them were in a critical condition.
Karachi is Pakistan's most populous city and the capital of Sindh province.
Two other airports in the country, including in the national capital Islamabad, were put on red alert and had their security strengthened, an Interior Ministry official said.
Akhtar said terrorists wearing suicide vests entered the airport in two groups of five and set ablaze a terminal used for cargo.
Seven of them were killed in a gun battle with military commandos while three blew themselves up when surrounded by soldiers, he added.
Early Monday, two groups of security forces fired at each other in panic, injuring one official. Rangers mistook an airport security staff member for an attacker and fired at him, Akhtar said.
Pakistani Taliban have launched similar attacks in the past, but mostly against military facilities. In 2011, militants laid siege to the city's naval base for 18 hours, killing at least 10 people.
Taliban have been waging a deadly insurgency since 2003 in Pakistan, killing over 40,000.
Tentative talks between the government and the Taliban were held last month but failed to make significant progress.