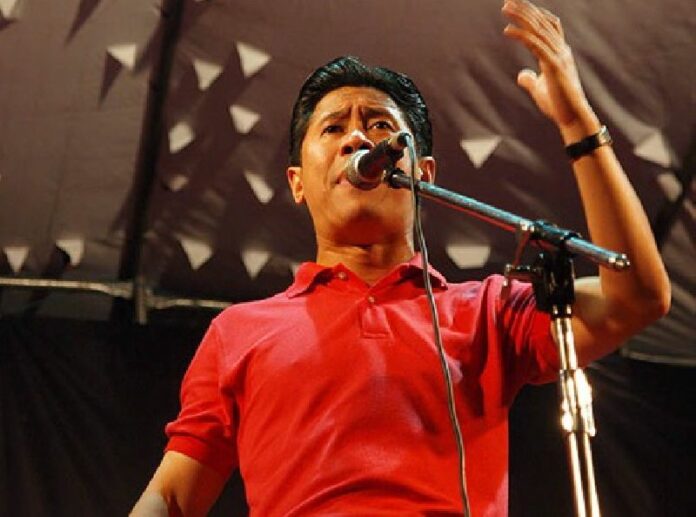 BANGKOK — The Thai Ministry of Foreign Affairs has formally asked the Cambodian government to curb the activities of an exiled anti-coup activist living in Cambodia.
Thai officials say they summoned the Cambodian ambassador and asked her to "cooperate" by discouraging Jakrapob Penkair, a former minister and prominent Redshirt leader, from criticising the coup from his self-imposed exile in Cambodia.
It is not immediately clear whether the Cambodian ambassador made an official response.
Mr. Jakrapob has been residing in Cambodia since 2009 to avoid charges of lese majeste (insulting the monarchy). If convicted, Mr. Jakrapob could face up to 15 years in prison.
The former minister recently returned to the spotlight when he vocally condemned the Thai military 22 May coup d'etat. Mr. Jakrapob vowed to organise a Cambodian-based resistance to the military regime, leading some Redshirt supporters to speculate that he is putting together a government-in-exile. A number of professors, activists and politicians have fled to Cambodia in recent weeks to avoid the military's crackdown on dissidents.
The Prime Minister of Cambodia, Hun Sen, has publicly dismissed any plans for a Thai government-in-exile on Cambodian soil.
"I would like to stress that Cambodia is not a place for any country or group to set up a government-in-exile," Hun Sen said on 28 May.
Thailand's request for cooperation from the Cambodian government came a day after a spokesperson of the Democrat Party — which supports the military coup — urged the Ministry of Foreign Affairs to extradite Mr. Jakrapob in order to prosecute him for his alleged crimes.
"Mr. Jakrapob is a fugitive prisoner under a lese majeste case," said Democrat spokesperson Chavanond Intarakomalsut. "Therefore, it is not appropriate for him to use his Thai citizenship to falsely proclaim leadership of [an anti-coup resistance]."
Mr. Chavanond demanded Thai authorities urge the Cambodian government to promptly extradite Mr. Jakrapob to Thailand.
"Otherwise it will cause misunderstanding and affect international relations," the Democrat spokesperson warned.
For comments, or corrections to this article please contact:[email protected]
You can also find Khaosod English on Twitter and Facebook
http://twitter.com/KhaosodEnglish
http://www.facebook.com/KhaosodEnglish