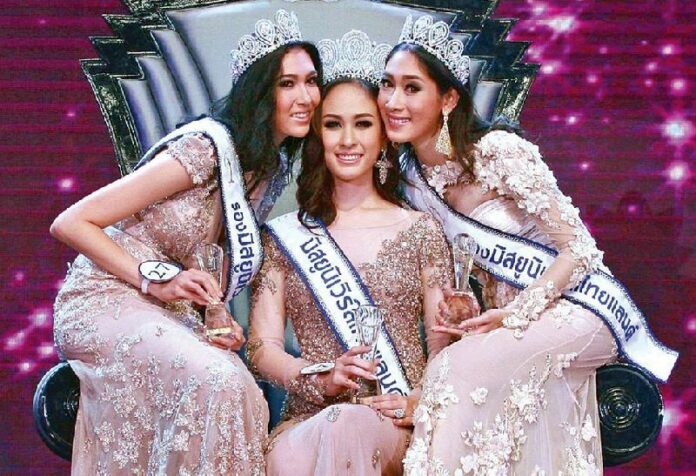 BANGKOK — The winner of the Miss Universe Thailand beauty contest has relinquished her crown after receiving a torrent of criticism in response to her vicious comments about Redshirt supporters.
Weluree "Fai" Ditsayabut, 22, said at the press conference today that she voluntarily conceded the crown without pressure from the organisers of the pageant.
"I am happy and proud of my decision," Ms. Weluree said.
Soon after the 22-year-old university student and actress was crowned the winner of the beauty pageant last month, her history of publishing hateful comments about Redshirts on social media emerged.
In one "public" comment from November, Ms. Weluree accused Redshirts of being "dirty," "anti-monarchy" dissidents and that Thailand would be cleaner without.
"I am not neutral. I am on the side of His Majesty the King," Ms. Weluree wrote. "I'm so angry at these evil activists. They should all be executed."
The remarks were discovered at the peak of Thailand's political crisis which pitted the Redshirts, who were allied to the former government, against the anti-government protesters led by conservative, pro-monarchy Yellowshirts.
A number of Redshirt supporters condemned the comments and called on Ms. Weluree to resign from her title, saying she was unsuitable to represent Thailand on the international pageant stage with such a negative attitude towards many of her compatriots. Ms. Weluree previously refused to concede her crown, but today tearfully admitted that the pressure has been too great for her to bear.
"The pressure was great. My family and my parents were troubled. My mother could not sleep because she was stressed," Ms. Weluree told reporters. "So I chose to make my family happy and voluntarily concede the pageant crown."
She thanked the judges for "seeing the good things" in her when they chose her as the winner of the contest last month. Ms. Weluree urged future beauty contestants to learn from her mistake.
Organisers of Miss Universe Thailand say the crown will be passed to Pimbongkod "Ellie" Chankaew, the popular runner-up, in accordance with the official rules of the pageant.