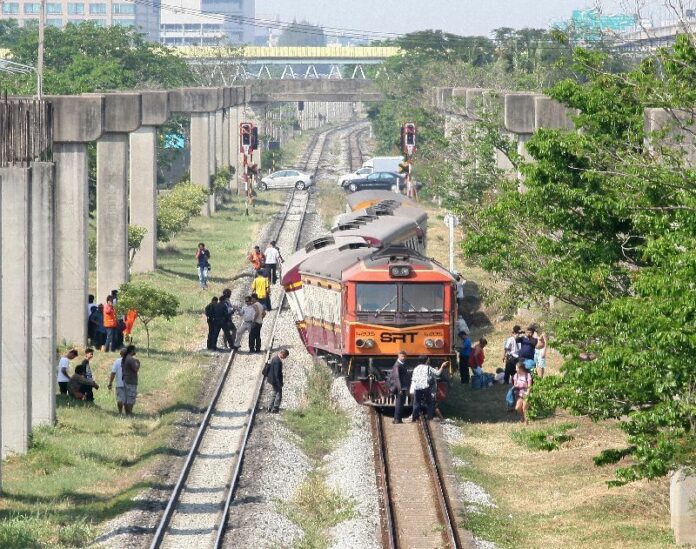 BANGKOK — It was 13-year-old Fon's* first and last train ride.
She was traveling from Surat Thani province with her two sisters and the boyfriend of her older sister in a sleeping car on train number 174, bound for Bangkok's Hua Lam Phong station on the night of 6 July.
There was a brief blackout, solely in her sleeping car, at 1 am, but none of Fon's companions noticed that anything was wrong until the train reached Nakhon Pathom province the next morning. When her older sister went to wake Fon up, she was gone.
The bed sheet from Fon's cot was also missing and her bag had been ransacked. The sisters promptly notified the railway staff, who searched every car after the train arrived at Hua Lamphon station, but to no avail.
News of a missing 13-year-old girl was quickly picked up by TV channels and newspapers, while a campaign to search for Fon was launched on social media.
This morning, Fon's body was found in a bush next to train tracks in Pranburi district, Prachuap Kiri Khan province, by a police search party. An initial police investigation has revealed that she was raped and then thrown off the train.
"She had never been on the train before," one of Fon's relatives said tearfully shortly after her body was found. "She asked us to take her because she wanted to have her first ride on train."
Rail employee arrested
Shortly after the train arrived at Hua Lamphong station, railway officials detained several members of the train's cleaning staff.
This morning one of the employees, Wanchai Saengkhao, confessed that he abducted Fon from her bed while her companions were asleep, raped her, and threw her overboard along with the bedsheet to hide the evidence, police say.
It appears that Mr. Wanchai planned the rape in advance. According to Fon's sister, Mr. Wanchai was caught staring at Fon when she was on the train and once approached her bed, claiming that he had left his hat behind in the sleeping car.
An autopsy report of Fon's body, released by Pranburi Hospital today, indicated that the girl suffered an impact wound on the back of her skull and bruises on some parts of her body.
Pol.Maj.Gen. Thanet Sunthornsuk, a police commander in Prachuap Kiri Khan, said it is not immediately clear whether Fon was still alive when she was thrown overboard.
Mr. Wanchai has been charged with premeditated murder, rape and theft. He remains under police custody.
Long train of scandals
The rape and murder of Fon has further sullied the reputation of the State Railway of Thailand (SRT), which has been embroiled in scandals for decades.
The company's diesel-run trains are notorious for their poor maintenance and squalid conditions. Delays as much as one hour are common, while incidents of derailed trains happened so frequently that the media has lost count.
Now the public is questioning the SRT's ability to recruit staff and screen employees' criminal backgrounds.
Prapat Chongsanguan, governor of the SRT, insisted that the company has a rigorous safety standard regarding its employees. He said Mr. Wanchai was a temporary staff hired to clean the trains, not a permanent employee.
Nevertheless, Mr. Prapat vowed to set up committees to investigate the incident and the railway officials who were on the train when the rape and murder occured.
"We will investigate and take disciplinary actions against the officials who neglected in their duties and allowed this incident to happen," Mr. Prapat said today. "We will also convene meetings to prevent such incident in the future."
This is not the first time a train passenger was raped by one of Thai Railway's employees. In 2001, a woman was raped on a south-bound train by a SRT staff, who was later sentenced to nine years in prison.
In that case the SRT refused the woman's calls for compensation on the grounds that the rape was "a personal issue between the defendant and the victim" and not related to the SRT or its operations.
*Her name has been changed to protect the privacy of her family.
Correction: Mr. Wanchai was not charged with attempted murder as reported in the original version of this article. He was charged with premeditated murder.
For comments, or corrections to this article please contact: [email protected]
You can also find Khaosod English on Twitter and Facebook
http://twitter.com/KhaosodEnglish
http://www.facebook.com/KhaosodEnglish