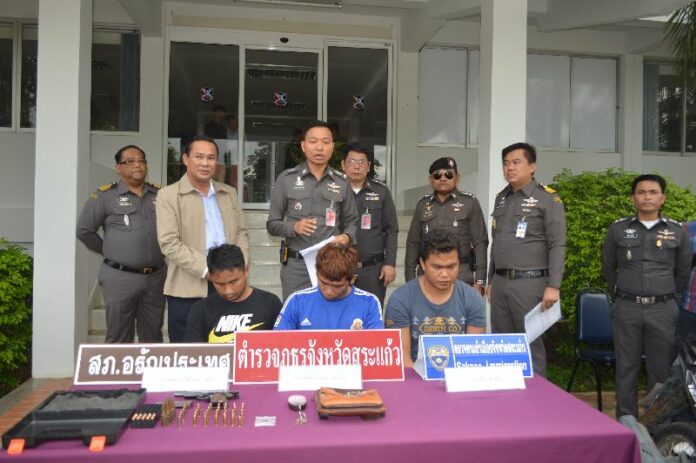 SA KAEO — Police say they have arrested three Thai men who confessed to abducting and sexually assaulting six Cambodian women after smuggling them into Thailand.
At a press conference held yesterday morning at Aranya Prathet Police Station, Pol.Col. Subin Thonglek said police were alerted about the incident after they encountered four Cambodian women walking tearfully along a road in Baan Mai Nong Sai district.
Upon questioning via an interpreter, the four women reportedly told police that they and two other Cambodian women were kidnapped from their apartment in Sa Kaeo province.
According to the victims, they and other 20 Cambodian women were smuggled to Thailand and had been hiding in the apartment while they waited to be sent to Bangkok to find work.
At around 3 am on 23 July, three masked men broke into their hideout and forced them into a vehicle at gunpoint, the victims said. The six women were reportedly taken to a motel in the province, where one of the masked men separated two women from the group and took them to another location.
The remaining two men then proceeded to rape the four Cambodian women, victims told police. The suspects later robbed the four Cambodian women and left them on the road where police found them, Pol.Col. Subin said.
The police promptly investigated the case and tracked down three perpetrators in their hideout in Aranya Prathet district, Pol.Col. Subin told reporters. The suspects are Pern Kam-ngone, Thanatkorn Deemee, and Uthai Nongpha.
A search of the suspects' residence turned up two handguns and ten bullets, Pol.Col. Subin said.
According Pol.Col. Subin, the perpetrators confessed to smuggling the women into the country and sexually assaulting them.
However, police say they could not locate the other two Cambodian women who were separated from the group at the motel.
One of the suspects, Mr. Pern said he took the two women away to another motel where he sexually assaulted them before fleeing the scene. Staff at the motel told police they found the women after Mr. Pern had left and took them back to Cambodia via an unmarked track across the border.
Police have asked Cambodian authorities to locate the two women and return them to Thailand to press charges against the three suspects.
Abuses and reforms
Thailand is home to hundreds of thousands of undocumented Cambodian migrant workers who come to Thailand via smuggling networks. Their undocumented status often makes them vulnerable to abuse by their employers, smugglers, and corrupt authorities.
In its latest annual report on human trafficking situation, the US Department of State downgraded Thailand to the lowest rank of Tier 3, citing evidence of widespread abuse of undocumented workers, often in connection with corrupt and complicit law enforcement officers.
Shortly after the military junta staged a coup on 22 May, more than 200,000 Cambodian workers fled the country en masse, fearing a possible crackdown on undocumented migrants. The ruling National Council of Peace and Order (NCPO) responded by announcing plans to reform the migrant worker system and setting up "One Stop Services" in several provinces to legally register migrants in Thailand.
More than 30,000 Cambodians have signed up for resident and work permits at One Stop Service centres along the border in Sa Kaeo province, said Pol.Col. Teerachai Detkhard, commander of Immigration Police in Sa Kaeo.
Pol.Col. Teerachai advised that all Cambodians should come and register with immigration officials instead of hiring smugglers like in the past.
"Every official is saddened by what happened," Pol.Col. Teerchai said, referring to the kidnapping and raping of six Cambodian women in the province. "So we would like to invite all migrant workers to register legally with the Immigration Police."
He explained, "Although they may have to face some delay, because there are many applicants [at the centre], it wouldn't take too long. And they will be safe. They don't have to hide."
A 26-year-old Cambodian who was waiting in line at the registration centre at the border checkpoint said she heard about the rapes and decided to register with the Thai officials because she thinks it is a safer way to enter the country.
"I don't have to put myself at risk of being kidnapped and raped like what happened," said the migrant, who gave her name as Ros.
Pol.Col. Teerachai also criticised the motel staff who sent the two Cambodian women who were reportedly raped by Mr. Poen back to Cambodia instead of bringing them to the police.
"All Cambodian workers that face problems in Thailand should inform the police. We will help them all, whether they are legal workers or not," Pol.Col. Teerchai said.
For comments, or corrections to this article please contact: [email protected]
You can also find Khaosod English on Twitter and Facebook
http://twitter.com/KhaosodEnglish
http://www.facebook.com/KhaosodEnglish